Omnichannel e-commerce and loyalty for Nike China
Nike is one of our longest and most successful partnerships in China, with collaboration across WeChat, mobile, Web and Tmall.
With $5.4b of revenue in 2023, China accounts for 10.5% of Nike's global revenue.
Staying relevant in this market does matter. A lot. To do this, Nike must invest in localization.
Since 2018, the Wiredcraft team has been helping Nike create a seamless omnichannel experience in China across WeChat, Tmall, mobile and the Web.
To do so, we leveraged all of our skills: designing unique experiences on Tmall, connecting the Nike+ membership on WeChat, building scalable infrastructure for the SNKRS app, and relaunching nike.com.cn.
What we did
Digital strategy

UI/UX design

Prototyping

Motion design

3D design

Project management

Product management

Software architecture

Frontend development

Backend development

Data analysis

DevOps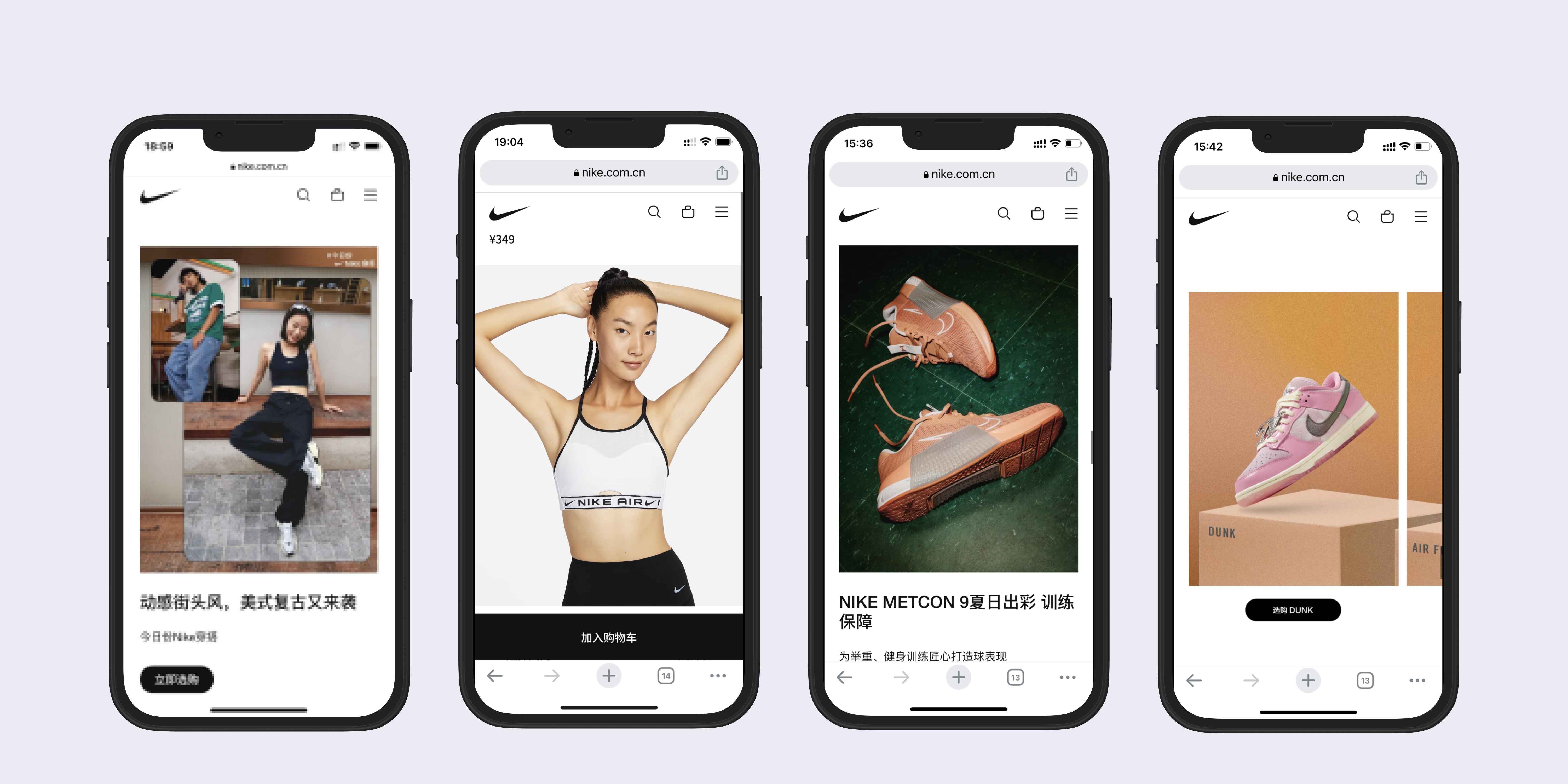 Launching a truly local experience for Nike
Wiredcraft supported Nike on its C4C (China for China) initiatives to plan, migrate and own many of their eCommerce backend systems in China.
We played a pivotal role in launching nike.com.cn, the China-specific version of their website, helping Nike's global resonate with Chinese consumers.
The program involved tight collaboration with global teams out of Oregon, helping migrate their entire Web stack over to China and extend it with features and integration specific to the China consumer experience.
We helped the brand integrate the sought-after "Nike By You" service — a personalized shoe customization experience — into the official Chinese website.
This is one of the many instances of innovation and hyper-personalization Nike delivered to its Chinese audience.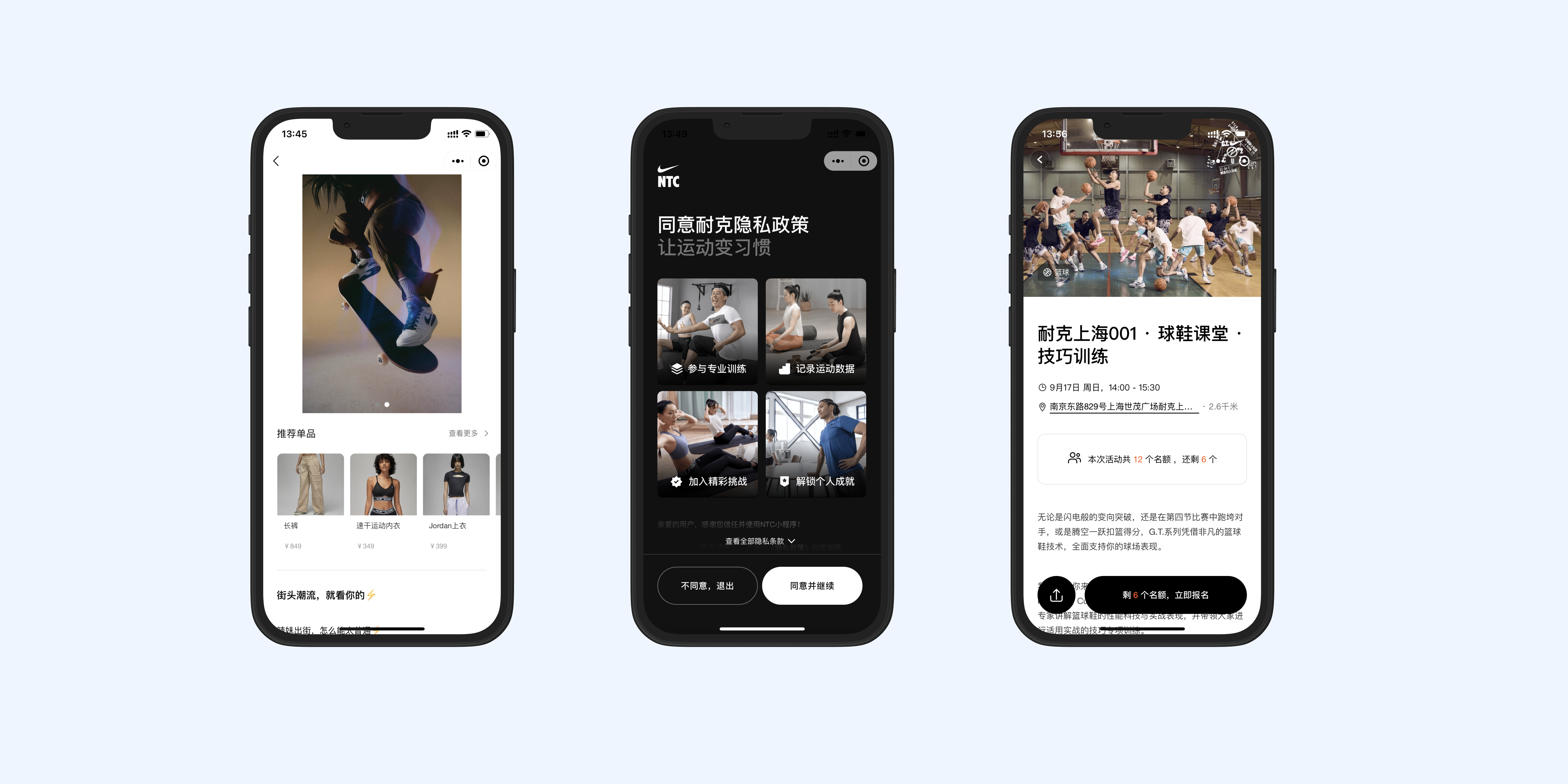 Beyond Web and mobile with WeChat mini-programs
We leveraged WeChat mini-programs to enhance Nike's global digital ecosystem with immersive experiences, O2O touchpoints and differentiated services. This includes:
Nike (Nike耐克): we supported Nike on its official e-commerce mini-program, which provided users with seamless product purchases and member registration.

Nike 365 Engagement (Nike互动): we assisted the brand in transforming online events into engaging experiences, featuring daily card collecting tasks and wearing collection challenges, adding gamification to Nike's brand engagement.

NXP MP (Nike活动体验): for offline events, we helped the brand launch this mini-program, offering event displays and booking capabilities, enhancing the connection between the brand and its customers.

NTC MP (NTC运动): we participated in creating the training mini-program providing users with access to sports videos and training history.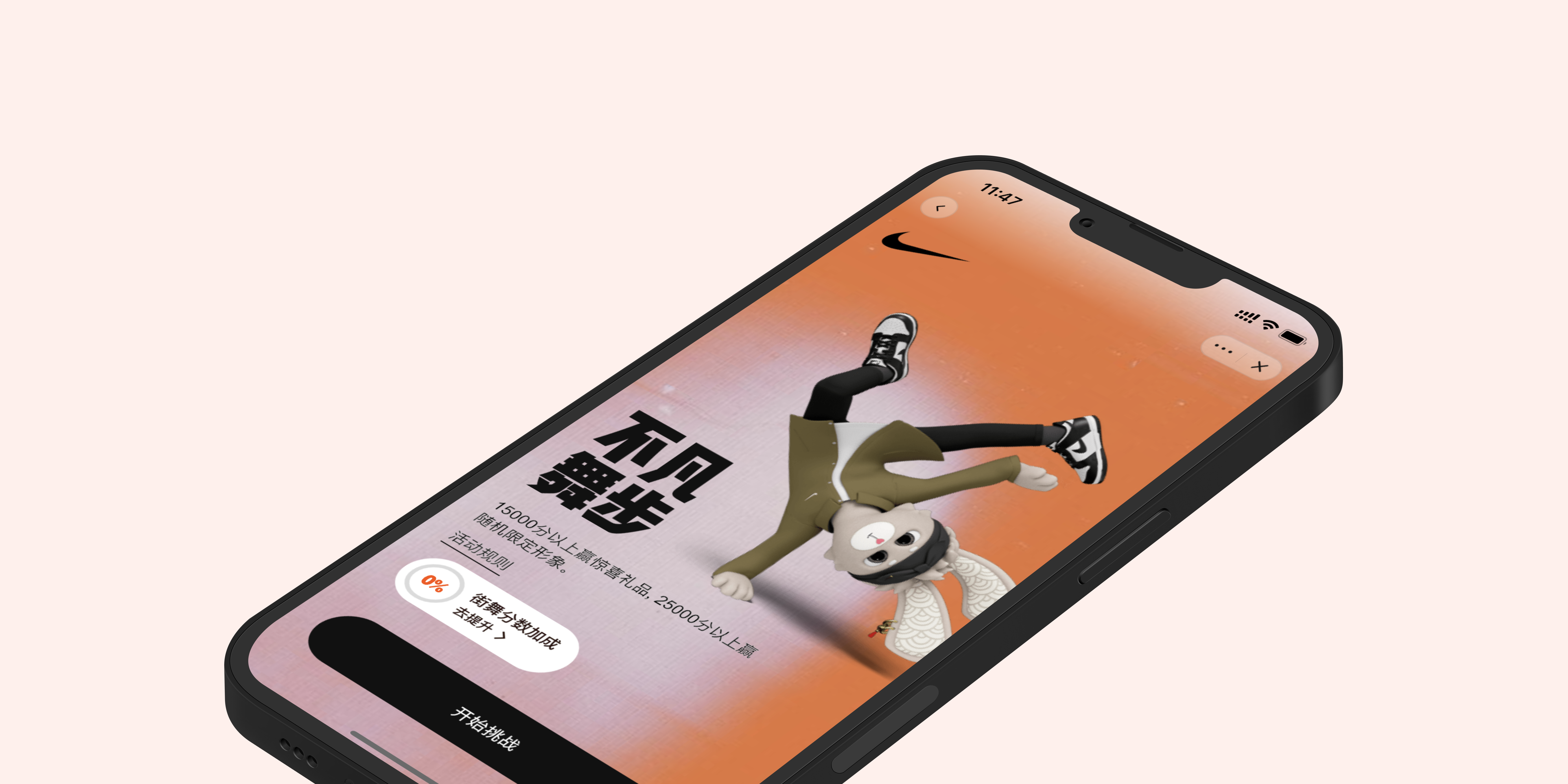 Gamified membership on Tmall
On the Tmall platform, Nike focused on retaining loyal customers.
We designed a list of interactive features oriented on loyalty and user engagement:
Nike Group Run: we participated in user experience design of the group run feature. Users could upload daily running scores by linking mobile health data to Tmall mini-program and gain incentives (vouchers, coupons, points for rewards) by group/individual participation.

Membership Avatar: we created a unique membership experience with a Metaverse concept. This innovative approach included highly personalized and customizable 3D virtual identities. This year during the 618 shopping festival, we further introduced "AirBunny," a special edition of 3D avatar. Users could gain member upgrading rewards and benefits by daily checkin, purchase, watch live-streaming, or participate in mini-games.

AR & Gamification: we designed an online AR basketball and dancing mini-games for a segment of the membership, enhancing the overall user experience during the purchase journey.
Scan the QR codes and explore Nike's WeChat mini-programs: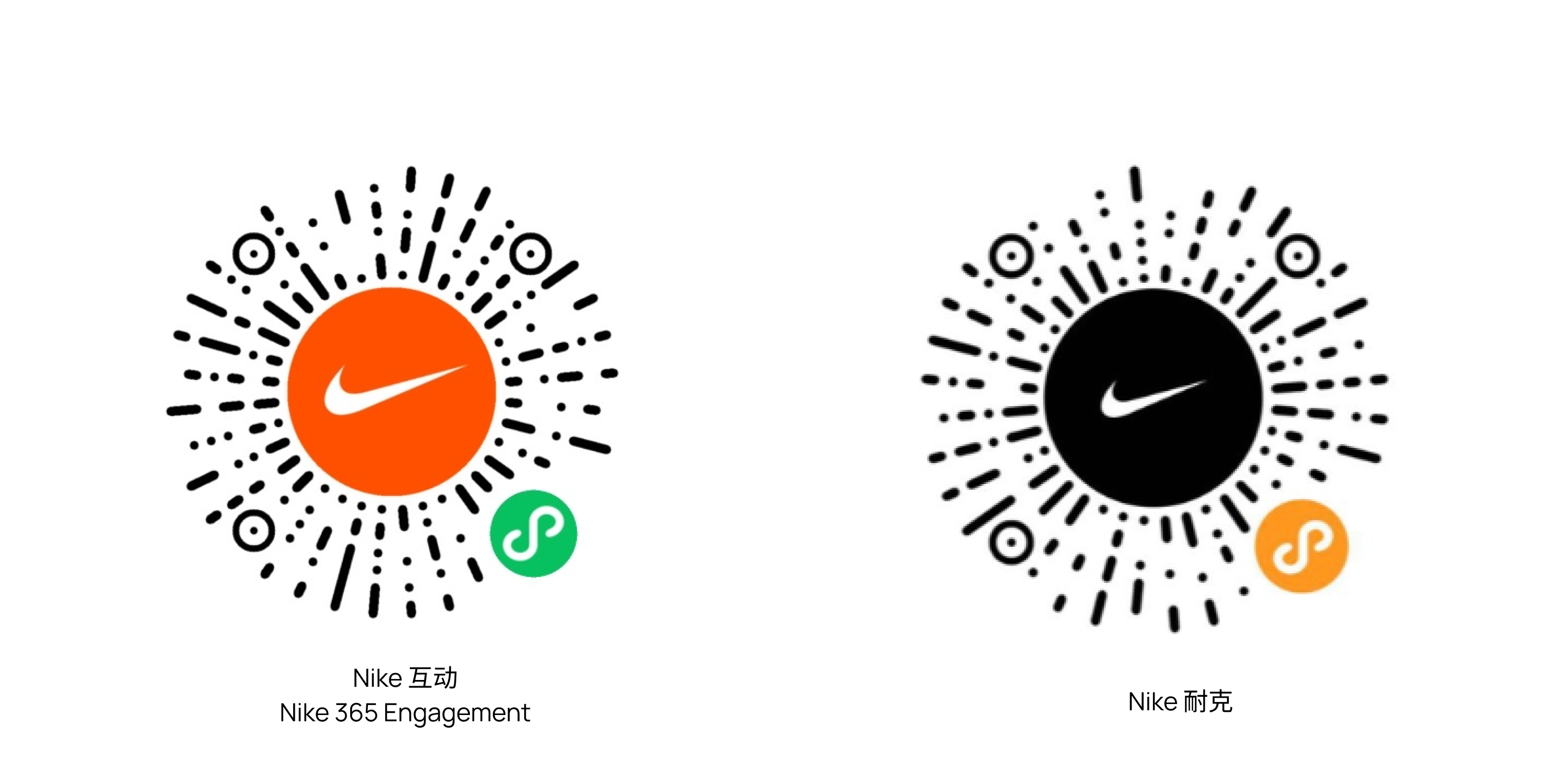 Check more of our works with Nike:
Building Nike's Metaverse in China with personalized 3D avatars
Xinyi Song
Digital Marketing Manager
Posted on
September 15, 2023
in
Case studies