WeChat for Dummies: WeChat CRM and customer service
Everything you need to know about WeChat CRM, Social CRM and Customer Service in WeChat.
Our "WeChat for Dummies" series tries to answer some of the most frequently asked questions we receive about WeChat from our clients and partners. We focus on topics such as User Data, Customer Service, CRM, Payment, Data Security, Data Analytics, and Personalization. Have another topic or question you'd like us to write about? Get in touch.
If you've missed it, we previously talked about WeChat open platform, user data or authorization.
Some frequently asked questions on WeChat CRM and Customer Service
What's a Social CRM? What's a WeChat CRM?
How can I integrate WeChat into our enterprise CRM?
How to provide customer service through WeChat?
How to acquire/update customer data through customer service?
CRM, Social CRM & WeChat CRM
CRM (Customer relationship management) is an approach to manage a company's interaction with current and potential customers. It links up customer information from various sources to increase retention and ultimately drive sales growth.
There are many types of CRMs; Analytics CRMs, E-commerce CRMs, Collaborative CRMs, Social CRMs… Each serving a different purpose.
Social CRM (also known as "SCRM") is the integration of social media platforms and social media technologies with CRM platforms. The idea is for businesses to build a more direct and personal relationship with customers by following them on social media and to react accordingly.
At the core of Social CRM is customer engagement, which means a more personal marketing approach and quicker customer support.
WeChat CRM is a kind of Social CRM with a particular focus on the WeChat platform.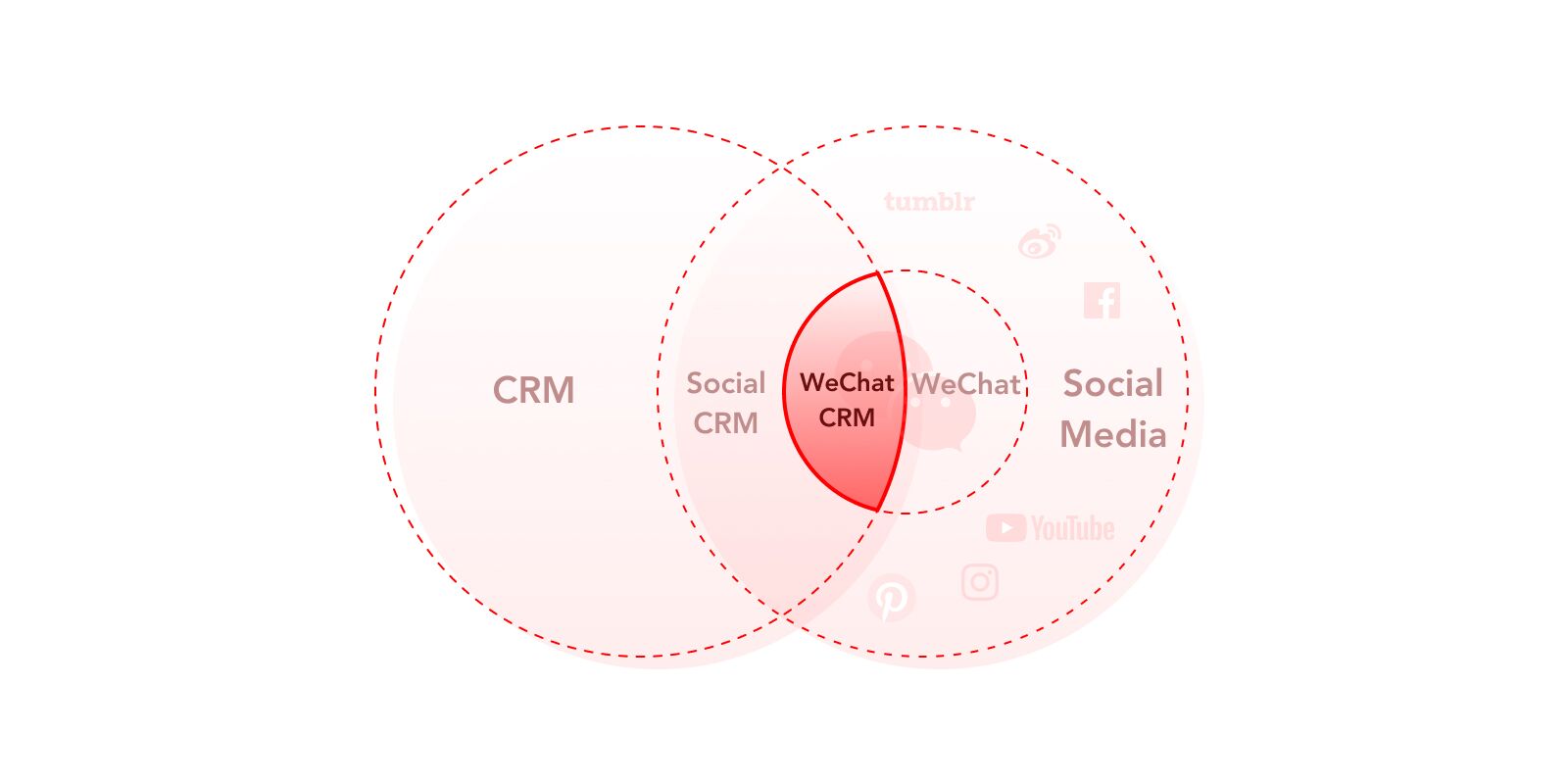 WeChat CRM Super Powers
A data hub to centralize data from various platforms. (enterprise CRM, e-commerce sites like JD, video hosting sites like Douyin).

Create multi-dimensional customer profiles. WeChat provides invaluable data for businesses - the rich content (text, video, audio) users sent to your OA, the banners users clicked on, payment scenarios, and QR code tracking. This data can be synced with existing CRM to create a 360 degree view of each customer.

Targeted messaging based on user interests. Based on the data collected from other platforms, a user is tagged and segmented before even entering your new channel. We can then leverage use to personalize the user experience.

Instant social customer support. WeChat acts as a direct communication channel for brands to track customer's feedback, mentions of brand, and complaints consistently. With WeChat integrated into your CRM, regardless of where your customers are talking about your business, you can quickly respond to them on WeChat.

Data measurement and reporting. Easy access to the data dashboard and marketing effectiveness reports for WeChat campaigns.

Social Advertising. You can identify your customers' purchasing habits and tailor your social ads to their buying behavior with customized offers. Use segmenting and labels to remind customers to restock based on purchases they've made in the past.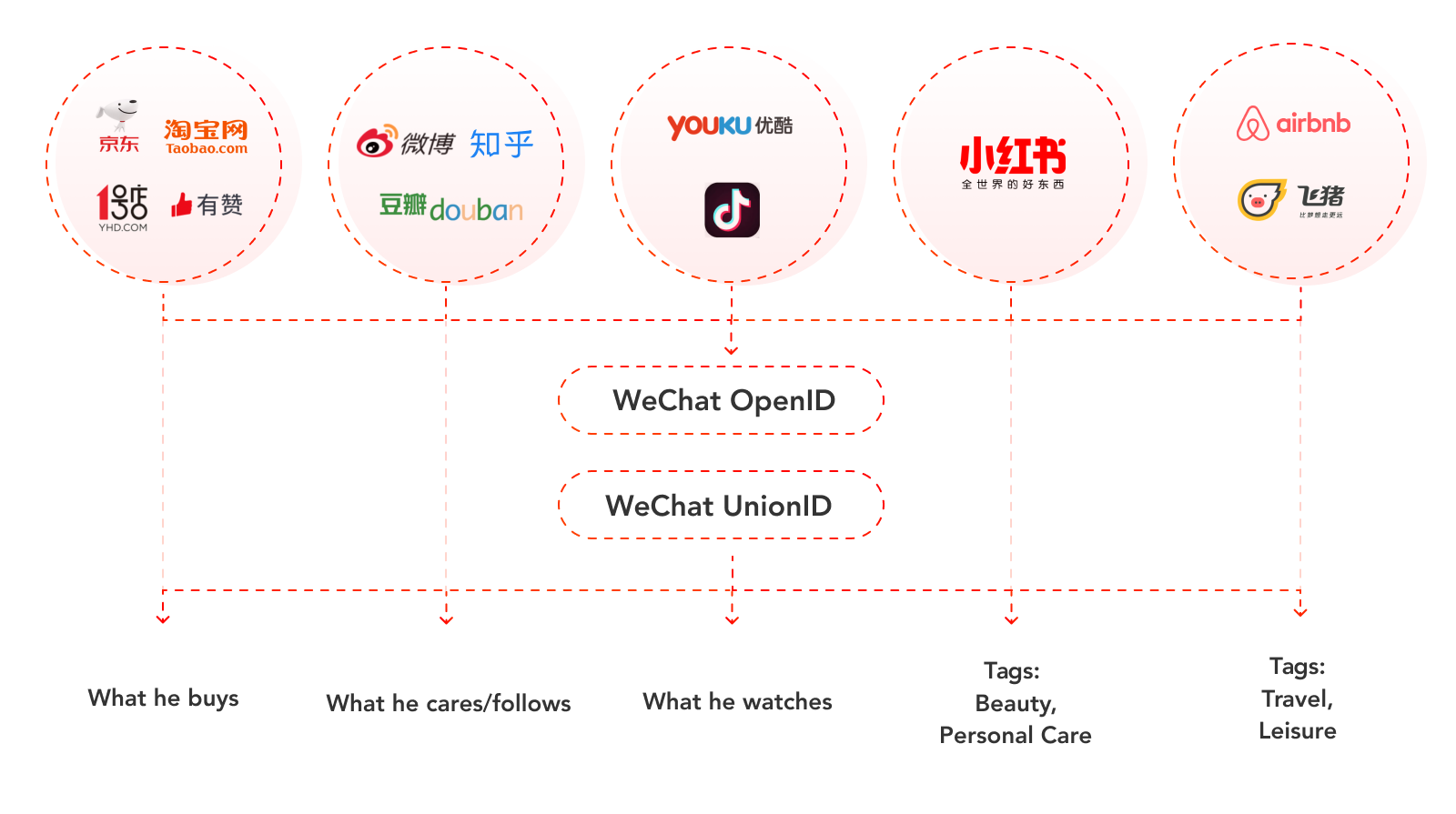 Leveraging the power of WeChat CRM
WeChat's native backend system has some limitations:
Very limited data reporting and analytics
Not easy to send targeted messages to segmented groups
Can't schedule campaigns based on a specific schedule
In order to fully leverage the power of social CRM, you can either integrate with an existing CRM solution or build your own.
For existing CRM solutions, you could take a look into
If you plan to build a customized WeChat CRM, these features can be configured to fit your business needs:
Campaign Management

Content editing
Scheduling
A/B testing

User insights

Account linking and configuration
User profile entry and management
User data acquisition
Tagging and segmentation
Personalization (language, menu link, push messages, customer service)
Sharing network mapping

Loyalty/membership

Profile editing
Account binding
Loyalty program management
Redemption
Customer service

Retail

O2O
Coupon & upsell offers
Targeted marketing campaign
Advertising

Data reporting and analytics

Conversion rate, retention rate, bounce rate
Impact of each touch point in WeChat sales funnel
Performance of promotional campaigns
Custom dashboards
How to integrate WeChat CRM into Enterprise CRM?
In our previous article, we talked about how to identify a single user across multiple WeChat platforms with their UnionID. To integrate WeChat CRM with Enterprise CRM, we need at least one key identifier to bind a WeChat platform (whether OA, MP or third-party site) with an existing CRM.
Step 1: Bind user identity on OA, MP, H5, or a 3rd party site through UnionID
Step 2: Bind user identity from the CRM with any of the platforms mentioned above through a key identifier that you can capture (user ID, mobile, email, membership number. etc)
Step 3: Done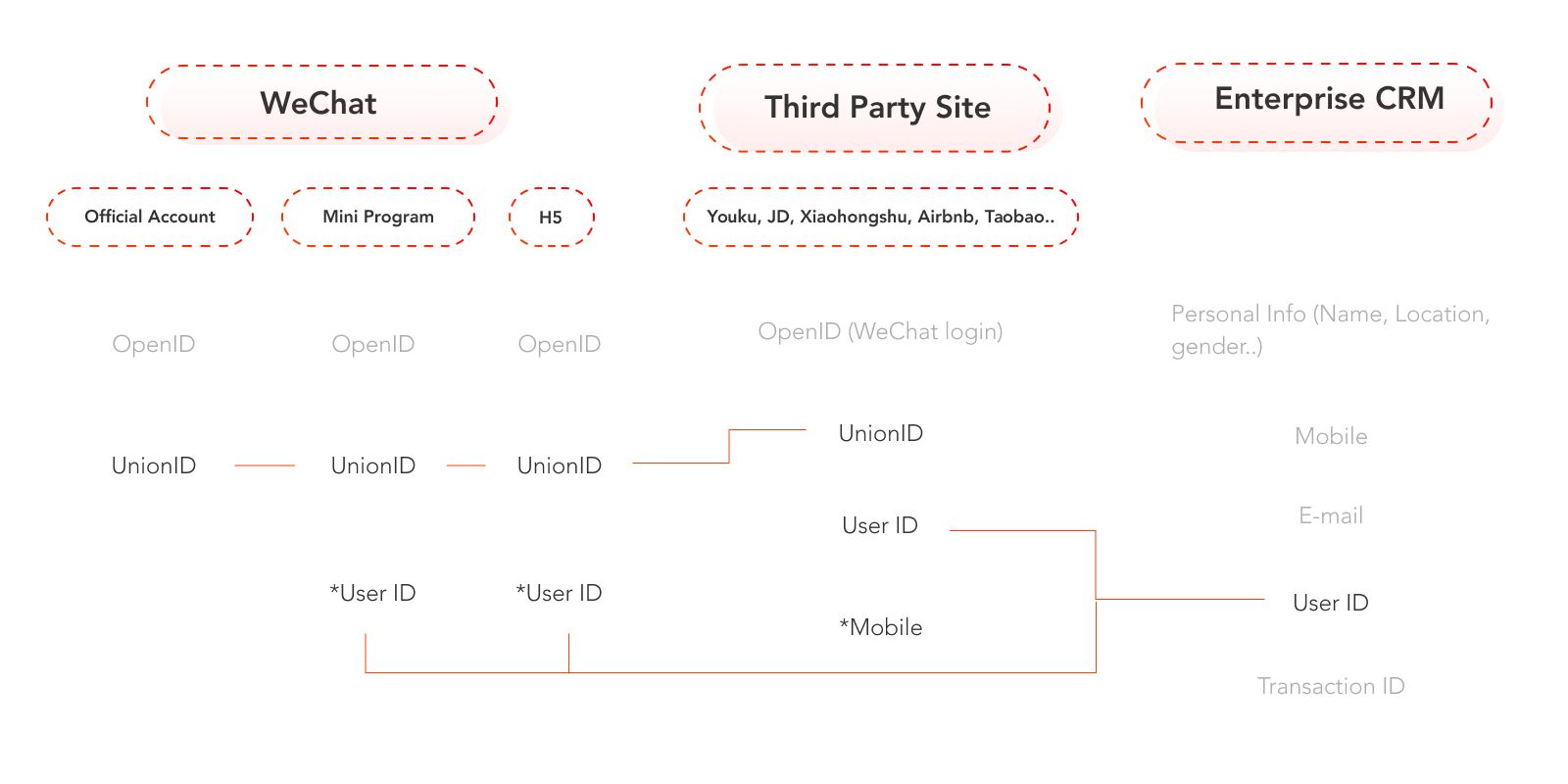 Tips:
There are numerous ways to get user identifiers - chatbot, conversations with customer support, WeChat campaign.
Collect WeChat information of current clients in your CRM by providing them incentives to follow and engage with your brand on WeChat.
WeChat Customer Service
Nowadays customers expect fast and direct responses to their queries 24/7. If these expectations aren't met, businesses suffer.
The Customer Service feature allows you to set up, manage, and monitor customer service behind the scenes. When a user sends a message to your OA, the message would normally either be processed within the platform itself (in editor mode) or sent directly to your server to generate a response (in developer mode).
Common Practices
Default Settings The customer service representative replies directly through admin backend.
If you don't get many user messages on your OA, this is the easiest way to answer them. You can bind up to 100 customer service staff to one OA, but they can only reply on web (not via mobile) and there are no alerts when you receive a message.
Other features:
Customize the nickname and avatar of each customer representative
Customer service conversation history
Simple dashboard to track traffic and detailed conversations
Editable quick reply templates
Note: The customer service representative can only reply to a user message within 48 hours.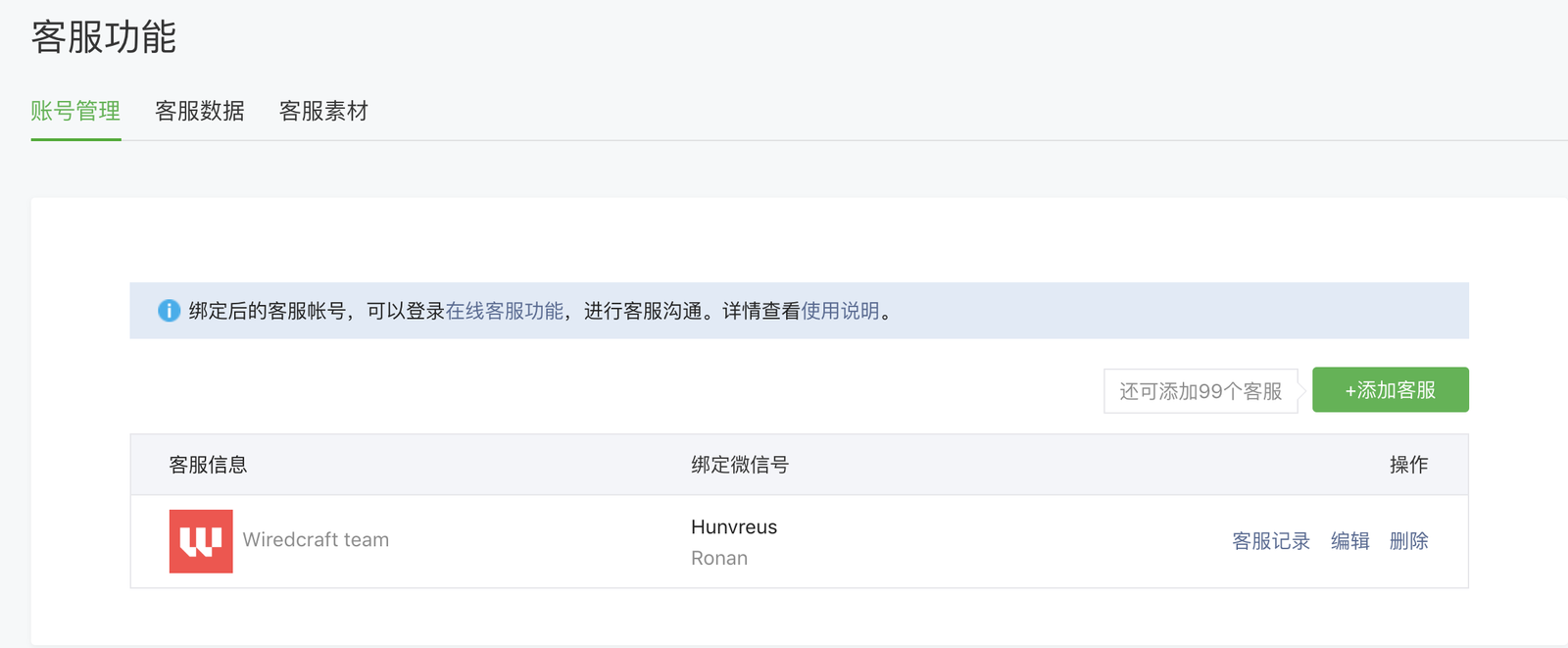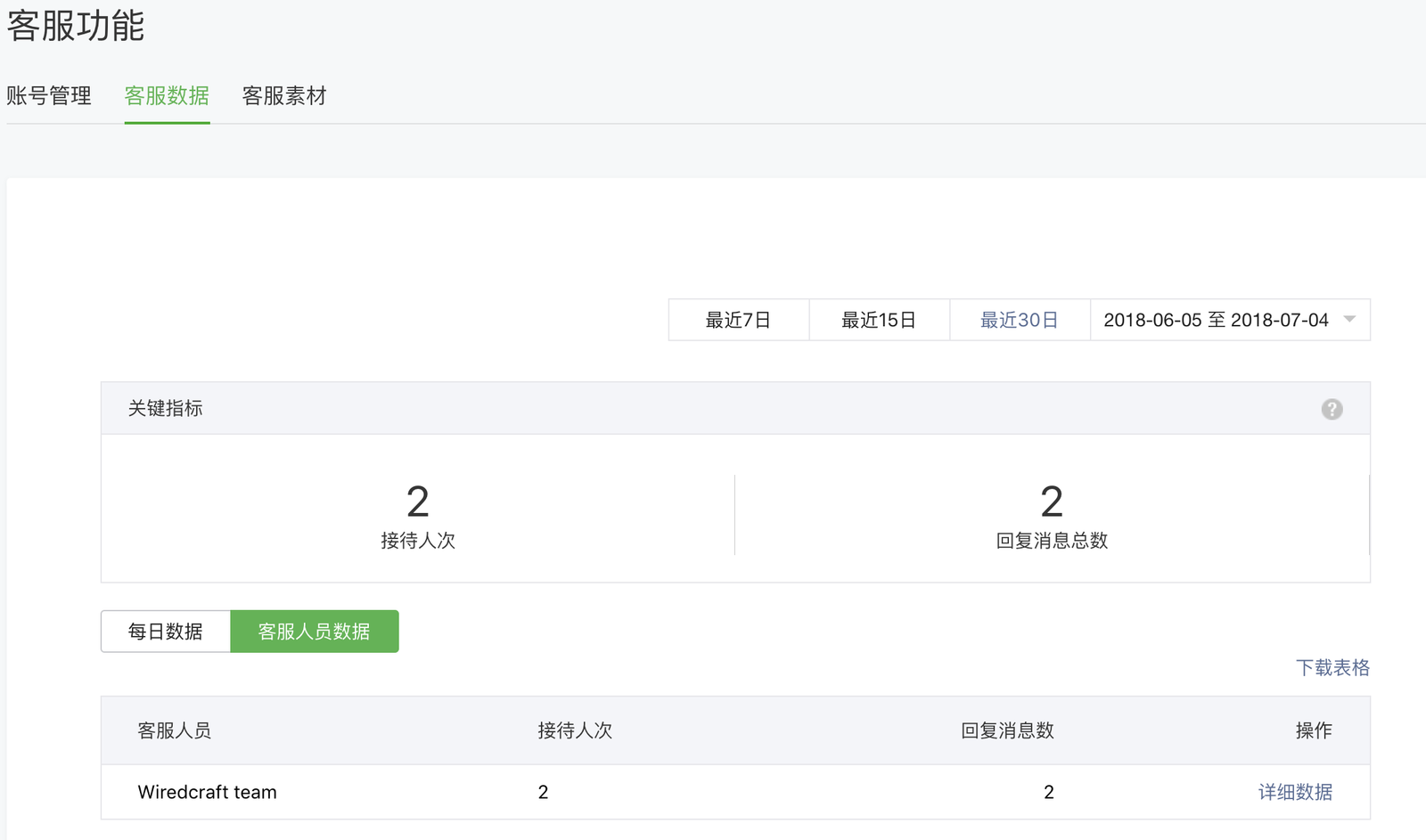 Customized Settings
Path 1: Menu › Keywords
User clicks on the 'Customer Service' tab on the OA menu, triggering an automatic message with keywords - for example, 'reply 1 to track your delivery'. The user then replies with one of the keywords, triggering a reply template which can be a picture, text, article, URL, video or audio.
Path 2: Menu › Customer Service System (MP, H5 etc.)
User clicks on the 'Customer Service' tab on the OA menu, triggering an automatic message of 'How can I help you?' The user then sends a message (text, picture or audio), triggering the customer service module where a customer representative can reply.
Examples: 中国联通, 中国电信, 京东
Path 3: User subscribes to OA › Welcome Message › Keyword Template
User receives an automatic welcome message when they subscribe containing keywords such as 'reply 1 for to track your delivery' The user then replies with one of the keywords, triggering a reply template which can be a picture, text, article, URL, video or audio.
Path 4: QR Code › Customer Service System
User clicks on menu or sends a direct message to the OA, triggering an automatic reply with a QR code. User scans the QR code to enter the customer service module.
Path 5: Mini Program › Customer Service System
User clicks on menu or sends a direct message to the OA, triggering an automatic reply with a link to a Mini Program. User accesses the MP to enter the customer service module.
Path 6: WeChat Name Card
User clicks on menu or sends a direct message to the OA, triggering an automatic reply with the name card of a customer service representative.
Examples: 大眼睛, 一席
Path 7: Chatbot
Path 8: WeChat Payment › User receives a WeChat receipt › Customer Service (via OA or MP)
Further reading