The real challenge for enterprise isn't digital
Enterprises born before the digital age are actually challenged on a culture of fast-paced innovation, not technology.
Many large enterprises are still struggling with aspects of their digital transformation.
The retail industry is a particularly apt example of it with many established, international and low tech players.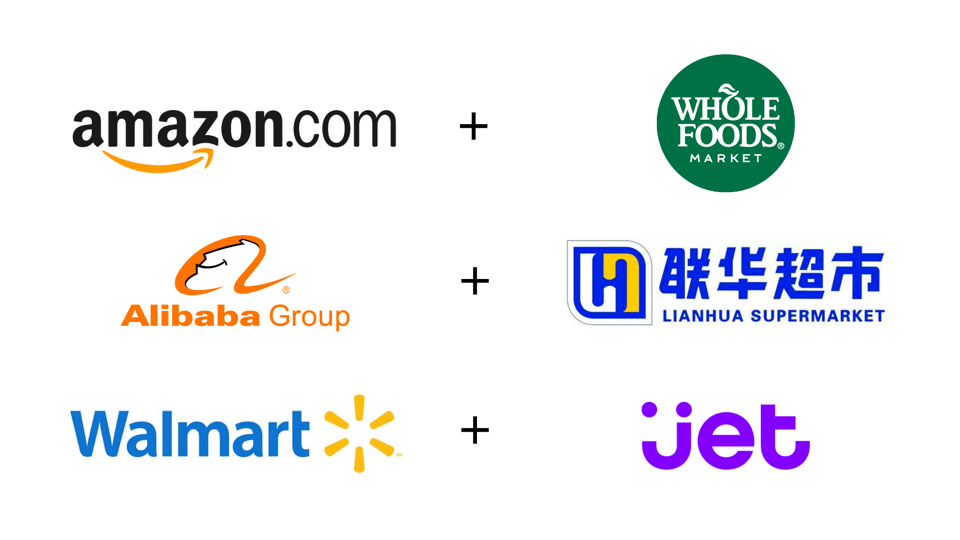 While large e-commerce players have been a growing their share of the market since the 90's, recent moves like the acquisition of Whole Foods by Amazon are very telling about the convergence of the whole industry; Alibaba and Lianhua, Walmart and Jet.com…
Online and offline are coming together… fast. But that convergence isn't what should scare the Walmart of the world.
The real threat is culture.
Amazon and Alibaba come from the tech world.
They were built on a culture of fast paced innovation, experimentation and resilience to failure.
Call it agile, design thinking, the scientific method or lean startup methodology. These are all facets of the same cultural core.
Now, established enterprises can be in a pretty comfortable situation still. Walmart owns over 20% of the market share in the US traditional grocery industry, and are growing increasingly fast.
But changing your culture is an order of magnitude harder than acquiring the logistical capabilities necessary to run an offline retail business.
The enterprises who don't successfully operate this cultural shift before losing their competitive edge will likely be surpassed by more aggressive contenders, or simply die.
Innovation in enterprise
Most of what our team does is actually helping enterprises move at the speed of startups.
We usually help large organizations create new digital serviecs, and in the process help them move towards a more innovative culture.
We've done this with the World Bank, PwC, governments, Starbucks, the UN, Richemont, Etam…
And more recently, we helped Walmart owned Sam's Club.
In a nutshell, we took their membership program for the Chinese market and digitized it on WeChat*. Simple enough, no?
What is unique about it then?
We got to a soft launch in 5 weeks, and are about to launch across China after 4 weeks of beta testing in a single store.
This is only possible because we moved at "agile speed".
Doing this in the enterprise environment is the real challenge, especially with a giant the size of Walmart.
*: we're officially launching in a couple days, stay tuned for a full case study.
So, how do you do it?
Pretty simple really; move fast, stay lean, measure and validate your assumptions, put the user at the center…
We've written about and documented a lot of these things;
On the topic of Innovation in Enterprise specifically (whether it's Agile, Design Thinking or any similar concept), there is no silver bullet that I know of.
We however often recommend the following;
Don't be religious about it. You don't need to implement a "strict" methodology with all its tools and processes. Focus on what works for your team and help you accelerate.
Focus on the (very) low hanging fruits. We often suggest to start with simple things; clear communication & collaboration guidelines, as well as building the routine of the morning stand-up.
It will only succeed if leadership gets onboard. Without the support and example of leaders within the organization, it's very unlikely you'll make any long term change.
That's basically it.
Pick something small you can get your leadership on-board with (or that you can get away with; it's sometimes better to ask for forgiveness than permission, especially in an enterprise context) and then roll with it.
Build the routine. Then move up.
Even with a small, nimble team it took us a while to get there.
Slow is smooth. Smooth is fast.
If your organization doesn't get on board, it will get irremediably challenged sooner or later.