Launching GOAT in China via WeChat
How we helped GOAT leverage e-commerce opportunities in China through a WeChat mini-program
GOAT, the world's largest marketplace for authentic sneakers, officially launched in China last July. Under the influence of a thriving hip-pop culture thanks to popular reality TV shows like the Rap of China (中国有嘻哈), China's population of 400 million millennials presents a tremendous opportunity for the company.
To help them quickly capture the increasing demands from their dynamic Chinese consumer market, we built GOAT's e-commerce WeChat Mini Program on our proprietary OMNI platform, leading their localization strategy from 0 to 1.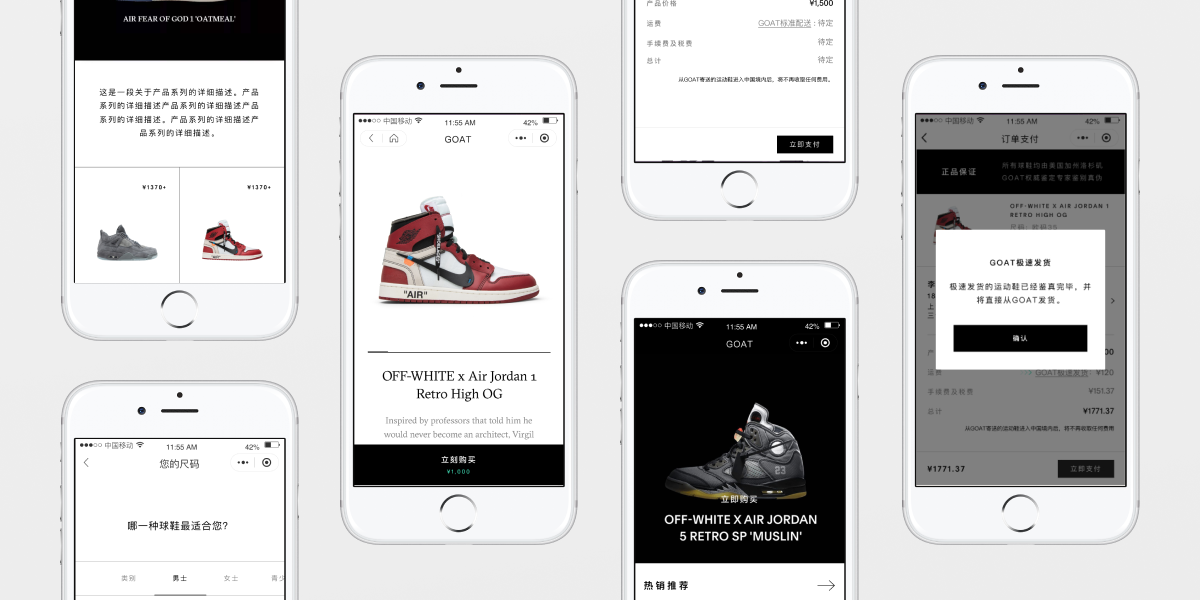 Unlocking the Full Potential of WeChat's Ecosystem
GOAT's WeChat Mini Program maintains a similar interface to their global mobile apps, while offering a localized and seamless shopping experience for Chinese users.
To kick off the launch, GOAT held a three-day event in Shanghai, showcasing the world's rarest and most exclusive sneakers in collaborations with top KOLs. We helped them build a O2O (offline-to-online) cycle, using individualized QR codes that led to tailored experiences for visitors and attracted thousands of new followers to their Official Account.
Our integrated Social CRM enables GOAT's business operations team to track consumer behaviors and send personalized messages on WeChat based on tags, increasing the conversion rate and unlocking a wealth of opportunities to provide targeted content based on individual criteria. Through the Mini Program, GOAT is also able to create localized promotional activities, like daily rare sneaker launches and lucky draws, to engage with a hyper-connected Chinese customer base.
Steadfast Performance, at Scale
Wiredcraft offers a secure omnichannel solution covering all key components including payment processing, OMS (Order Management System), PCM (Product Content Management) and Social CRM. It handles high amounts of traffic and orders, especially through shopping holiday like "Double 11" - China's biggest online shopping festival initiated by Alibaba.
On November 11, 2019, GOAT successfully launched its first "Double 11" campaign through Mini Program at midnight. Within the first 5 minutes, the platform had reached 2500 requests per second and completed over 2000 orders within 10 minutes.
Our resilient and scalable OMNI platform makes it possible for GOAT to leverage this unique opportunity in Chinese e-commerce while ensuring a smooth and error-free operational process.
Connecting Chinese Consumers to the World
As a US-based company, GOAT needed a solution that allows them to easily scale their existing systems and cater their brand experience to a localized Chinese audience. OMNI leverages a lightweight yet robust middleware layer to seamlessly connect a wide range of proprietary services into a unified and scalable enterprise system.
OMNI's full range of cross-border e-commerce features allows GOAT to comply with local customs regulations when shipping products direct to consumers from overseas. Our OMNI Commerce module also integrates directly with international payment providers, providing consistent support for a high volume of cross-border transactions.
At Wiredcraft, we take great pleasure in working alongside thriving international brands like GOAT, building tools to connect local and international systems and delivering seamless experiences for Chinese consumers. Drop us a line to learn how we can also support building your brand's digital infrastructure in China.