Uncovering our tracks with link tagging and Google Analytics
As we promote our events, content, and more, it's imperative that we track our inbound traffic with tagged links so we can optimize our marketing efforts.
Just as Hansel and Gretel left a trail of breadcrumbs in the woods to find their way home, we digital marketers must also leave tracks so that we can optimize our efforts and not waste precious resources. However, the internet is a noisy place, heavily trodden and nigh infinite. Breadcrumbs won't really do the trick, especially if they're gluten-free. Instead, we use tagged links and some of Google's great tools to lay tracks and find them when we're evaluating our efforts. We've mentioned how Google is shaking up SEO, so take a look at some practical methods for your marketing.
It's really noisy here
On a regular basis, we host events and publish blog posts, which we need to promote on a variety of platforms, like Twitter, Reddit, and others. Not all platforms are created equal, though, which should be obvious. Grandma probably isn't sharing her recipes on Twitter, your little sister isn't on Facebook anymore (likely because Grandma is there now), and who the hell knows what Ello is? (I do!)
Since we can't all be Beyonce or Taylor Swift with millions-strong followings and deep reserves of wealth, we need to make our bottom lines work for us and track our online engagement. Thankfully, the good folks at Google have built a smart, albeit clunky, tool for seeing where your viewers are coming from: Google Analytics.

It's handy for identifying how much traffic you're getting and what people are doing when they visit your site. We can see how many new visitors we have arriving at our site, the number of pages they visit each time they land on our site, how long they're on our site, and more. We don't pay for any services from Google Analytics currently, but you can track your promotianal campaigns and spending through this interface, too.
To tag or not to tag. Wait, what was the question?
So why bother tracking? Well, it's pretty simple, really: not tagging makes your tracking efforts essentially useless. Here's what your traffic looks like when you don't set up a campaign and tag:

This is nice information, but it's really not helpful because it lacks a relative comparison between campaigns or channels. We had many readers visit the blog over the last week, but how does Twitter fare against LinkedIn, Reddit, or WeChat?
With tagging, you can get really granular and see where people come from, what they do, and for how long. Take a look at how much better data you reap when you tag your links: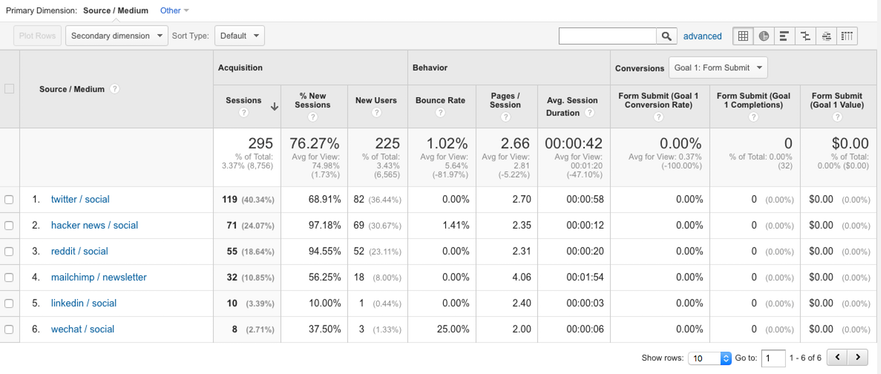 You can actually parse your traffic by channel and identify the most effective channels by all of the metrics. This snippet is from tracking our blog interaction over the last week and we can see that Hacker News and Reddit gave us a lot of new users, while our newsletter subscribers spent the most time on average reading our blog. With tracking, it's much easier to clearly validate assumptions you might have made when you initially created your marketing strategy.
Moving forward, we can test our sharing on several dimensions: which platforms are the most friendly to our content what content is popular on what channel (Hacker News would probably like our tech stuff more than LinkedIn, but we'll need to analyze) when we post our content (do people wake up and check WeChat or read our newsletter when they go to bed?)
I'm only naming a few possibilities, of course, but you get the idea. As we iterate our sharing, we'll turn our focus to the most important metric for everybody: ROI. We want to invest our time and energy into channels that are actually effective at generating the traffic and engagements we want. Wiredcraft is a digital agency, so pouring money into promoting tweets isn't useful if it doesn't provide any business leads (even if we somehow got ten thousand retweets).
We want to strategize our sharing and web presence so we don't waste time tweeting more than is healthy for our schedules or spend time on excessive channels, like for us Pinterest. No offense meant to Pinterest; it's a great marketing platform for many kinds of e-commerce companies. Please don't send me hate mail, Pinterest-lovers.
We recently committed to a company-wide effort to track everything we put out into the internet, including our blog, events, and job ads. As we put out more content and more kinds of content, we'll certainly track all of it and consistently move to optimize our promotion efforts and reach peak marketing efficiency.
Sniffing out our visitors
The cornerstone to tracking our traffic and engagement is tagged links, or UTM tracking. For those of you not familiar, have you ever noticed those ungodly long links when you click a link from Twitter or Facebook? Something like this: /blog/business-development-sales-process-awesome/?utm_source=twitter&utm_medium=social&utm_campaign=2016%20blog%20page
Pretty messy, right? Everything after the question mark in that link is extraneous for getting you to the right webpage, but that chunk of text, the tag, is crucial to the digital marketer trying to see where his/her website's visits are originating.
If you use Google Analytics, those generous folks in Mountain View built a simple tool for tagging your links. You can access the URL builder here and get started running analytics on your own website. It's free!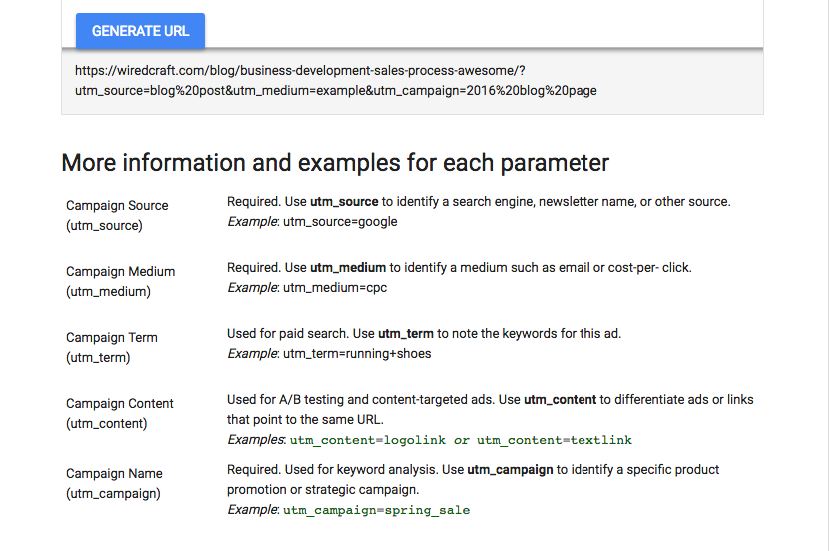 Right now, we put every link to everything we promote through this funnel, which has started to be a time-suck and may cause headaches quite soon. It's in our company philosophy to automate everything when possible, so we'll be investigating that quite soon. I did find a Chrome extension that reduces the pain of this process, but that's still not the most optimal solution for me.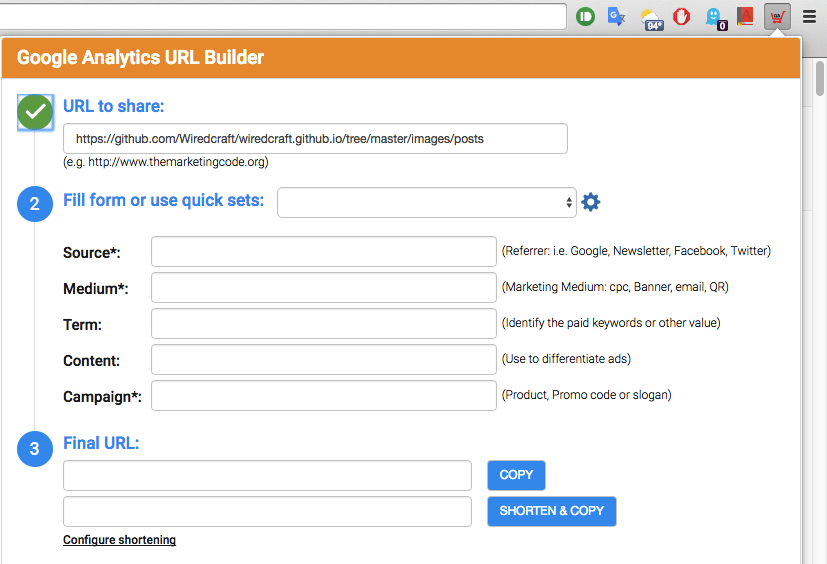 A few hiccups and some stumbles
Setting up this process wasn't too challenging, but we had a couple obstacles along the way. Nothing major, but they do require us to have an established, consistent process for tagging links.
Google Analytics is great for tracking your promotions and sharing, but the campaigns require consistent taxonomy. My marketing colleagues and I were giving the same campaign different names, so the statistics were rendered less useful because the stats were spread out among a few headings.
Tracking the promotion of this month's Javascript meetup was a bit of a mess because we had at least three campaigns: js meetup July 11, javascript meetup 7/11/2016, JS 7.11.2016. After seeing our wires crossing, I wrote out the specific names for campaigns we're currently running. (Please excuse my penmanship. I'm a lefty.)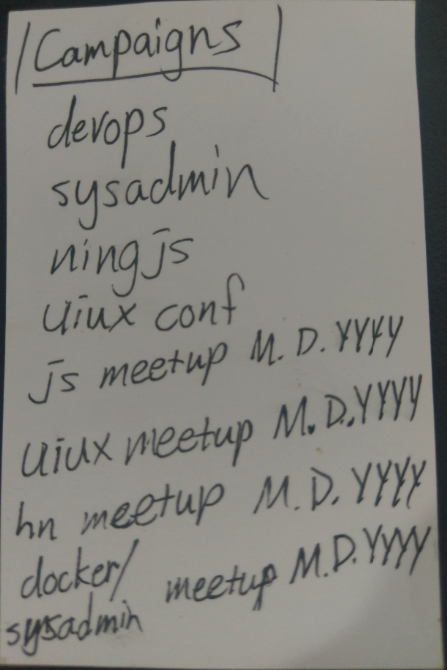 If you find yourself with data spread across several campaigns tracking the same traffic, you can fix the problem by applying filters to your traffic in the dashboard, but it's much easier to coordinate your tagging from the beginning. Just like mom and dad told you: plan ahead, look before you leap, measure twice and cut once, stop sitting so close to the TV, finish your vegetables, et cetera, et cetera.
We can't advertise with foot-long links; they don't fit in tweets and they're pretty damn ugly. We started using Bit.ly to shorten our tagged links, which served us well for a couple days, until we tried promoting with Bit.ly on WeChat. The links failed to resolve several times, so we turned to TinyURL, which worked until we tried to use them on Weibo.
Fretting a bit, I suggested Ow.ly, which is a product of Hootsuite, the app we already use for sharing on our social media channels. Testing Ow.ly on our various channels didn't turn up any issues, so we pushed ahead. Sharing Ow.ly links to Twitter, Facebook, and LinkedIn wasn't too difficult because Hootsuite's sharing dashboard has a built-in shortener.
Tools to use
As you can imagine, tracking everything is a bit of a pain, especially when implementing and hitting your stumbling blocks, but there are some tools to help ease the struggle. Obviously, Google Analytics forms the centerpiece of all of our tracking. There are alternatives, like Optimizely or KISSmetrics, but we believe they don't compare to GA. Make sure you have a VPN if you're in China or any other Google-free countries, naturally.
Next, you need a tool to make sharing to social media a cinch. We use Hootsuite, as mentioned before. It has a built-in link shortener, an easy method for sharing to multiple networks, and multiple streams for tracking your output, scheduled content, and engagement. Not only that, Hootsuite just rolled out a new dashboard for analytics. It looks pretty clean and has useful metrics for social media, so I'll be checking this out over the next few weeks. I generally don't like Hootsuite's user interface, but this is simple and quick to read. One caveat: most of the analysis comes from using Ow.ly links.
Another tool for social media sharing, one we used before Hootsuite, is Buffer. It has a very clean, simple UI and provides its own set of analytics, too. The downfall I found with it is it's really hard to share your own links. Buffer automatically shortens links to http://buff.ly, which was distracting for me when browsing my Twitter feed.
Building a shed-joule
Now that we have our properly tagged links, it's essential to plan our content and event sharing accordingly. We're promoting at least three meetups, two conferences, a growing stream of blog posts, and other company goings-on and this shouldn't happen all at once or without structure. Thus, we built a spreadsheet for scheduling and planning what and when we share and on what channels.
We built this flow for each meetup we host in Shanghai and Berlin, our blog, NingJS, and UI/UX Conf. It was obnoxious and time-consuming to build, but duplicating it now is super quick and we can drop links in the spreadsheet when need to speed up the sharing or make them on the fly with the Chrome extension I found.
To relate back to link tagging:
The first column is the campaign name
The second refers to the campaign source
Individual cells identify the campaign medium
Looking down that dark desert information superhighway
There you have it, folks. I learned all of this in the last few weeks since hanging around the Shanghai office and I hope you'll find your promotional efforts returning more information for your investment. Tag links to anything you share, be it your company blog, your personal one, an event you're trying to promote, or perhaps some random site you found at 2am last night and you'll find there's a big world of data out there for harvesting and investigating.
Do you have any tricks for optimizing your promotions? Is Optimizely every bit as good as Google Analytics? What's your favorite link shortener? Tell us with a tweet (@wiredcraft) or shoot us an email ([email protected])!
Jonathan Goodwin
Online Marketing
Posted on
July 29, 2016
in
Data
,
Technology