WeChat for Dummies: Official account basic functions
Go from WeChat dummy to WeChat genius and find out how to properly use your official account.
I've always been hesitant to write about WeChat, as you can easily find related articles\blogs\forums\workshops\reports and talks everywhere online and offline. Until one day, I saw my boss posted these on his WeChat moments…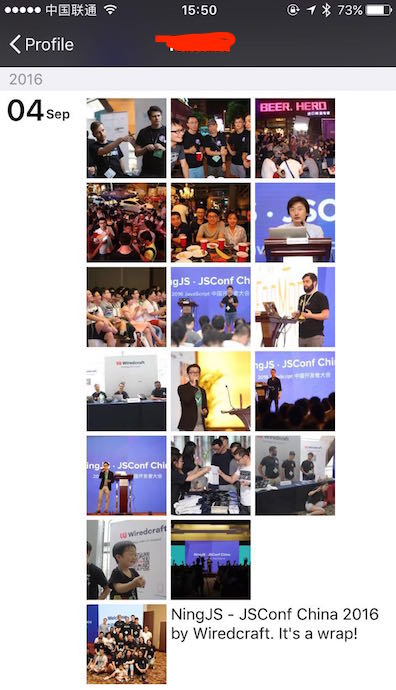 He didn't know how to upload 9 photos at the same time, so he added them manually one by one.
I realized that many people use WeChat everyday but they don't really know how to use it in a smart way (not as bad my dad only using his iPhone for calls and text messages, but almost). And those WeChat analytical articles and workshops are simply too advanced for them.. So I started this WeChat 101 for Dummies blog series aiming to pass on some basic knowledge about WeChat and WeChat official accounts.
A few things about WeChat 101 for Dummies:

In this article, we'll walk through the wechat official account admin platform to understand and practice some basic functions. Before digging deeper, let's clarify two confusing concepts first - WeiXin and WeChat. When we say "WeChat", sometimes we mean "WeiXin".
"WeChat currently exists in two versions: the Chinese Wei Xin and the international WeChat. This is of the highest importance in making sure you reach your desired user base and here's why: International accounts can only be accessed by WeChat users, whereas Chinese accounts can be accessed by both WeChat and WeiXin users. In other words if you are trying to engage with users in mainland China, which is quite likely, you'll be needing a Chinese WeiXin account." -The Complete WeChat Account Setup Guide

In this series, we only talk about the Chinese WeiXin version, even though people tend to call both "WeChat" and "WeiXin" as "WeChat".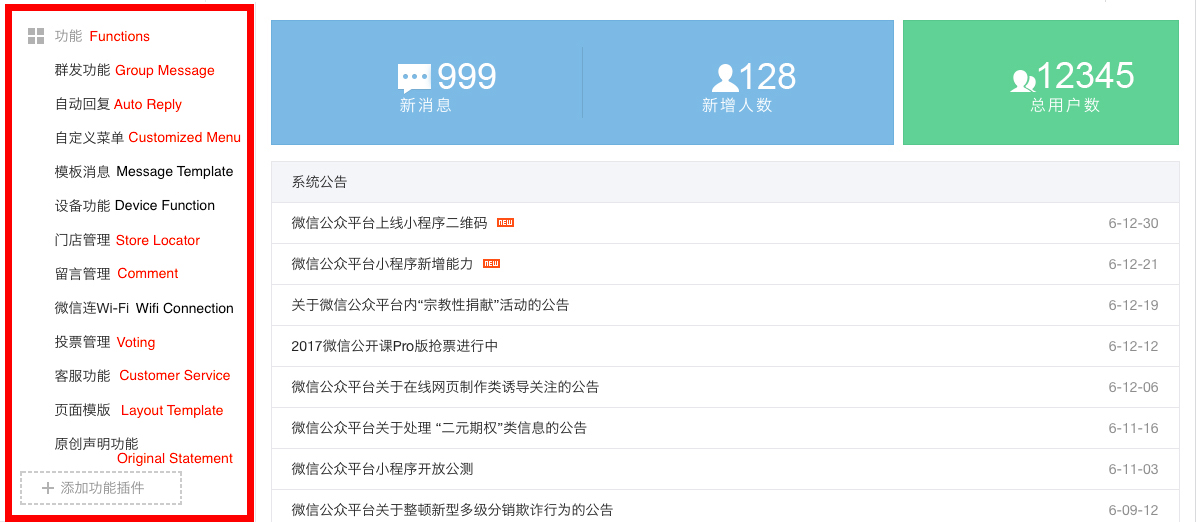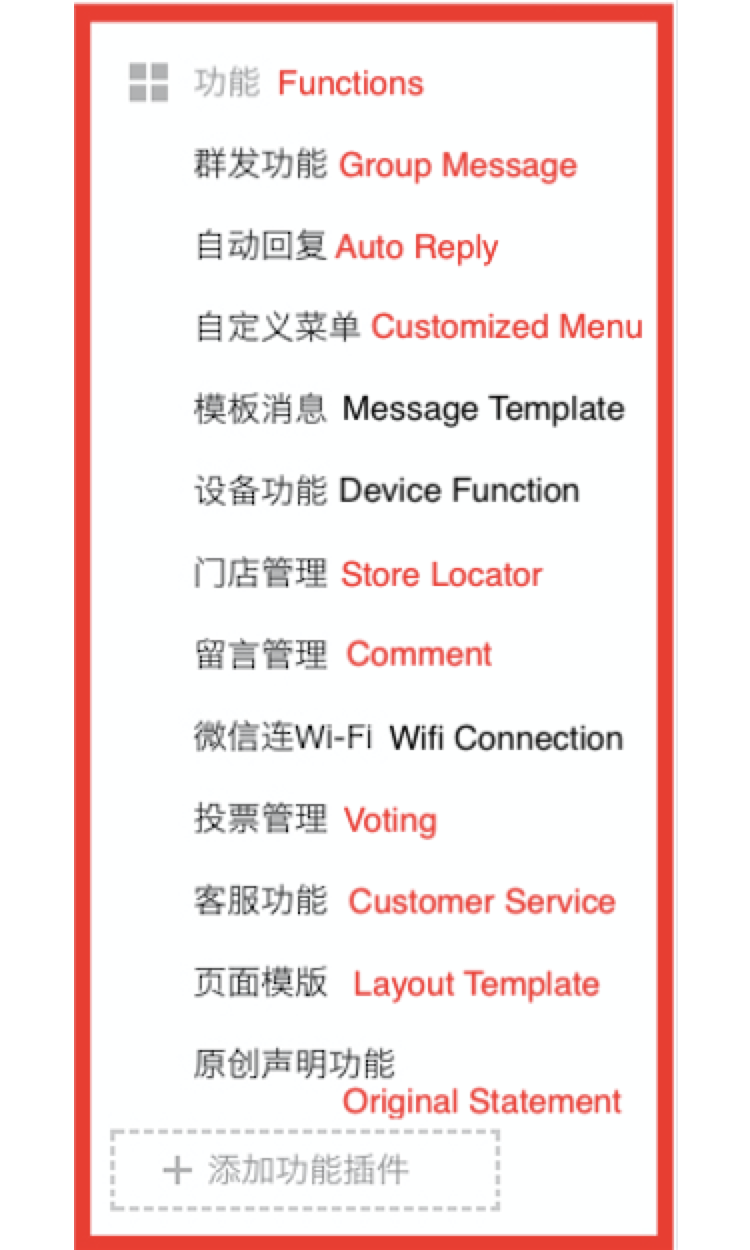 1.Group Messages
TL;DR, send the right thing to the right people.
The number of group messages you can send per month depends on your official account type. (Curious about different account types? We'll talk about them in the future. Maybe.) What you probably don't know is that you can tag your followers and send the tailored post to certain group(s). You can even select your targeted audience by gender and location. For example, I can push this JS meetup message only to male developers in Shanghai. Thus, I won't disturb the other followers who are certainly not interested in this event.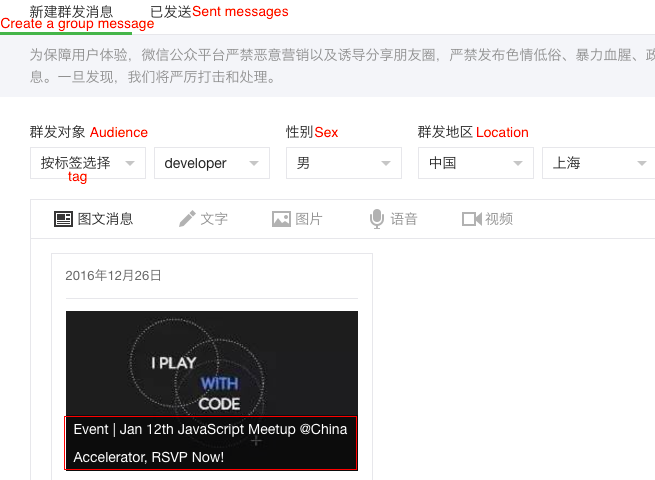 2. Automatic Reply
TL;DR, don't let them down.
Your followers expect an automatic reply in the following situations:
when they first follow your official account
when they send you a message
when they send certain keywords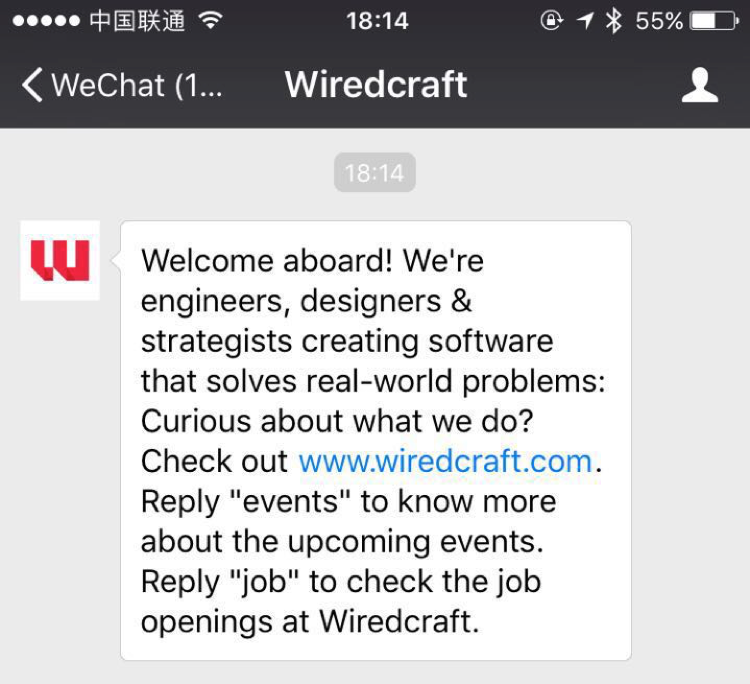 The welcome message normally introduces the account, indicates the keywords and sometimes promotes the recent campaigns. That's your followers' first impression of your wechat account - if you can't make it stand out, at least try not to be so lame that they unfollow you immediately.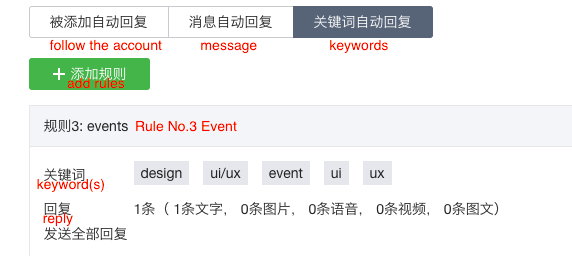 When you design the keyword rules and set up the keywords, take the potential typos, plurality, relativity and casing into consideration. If the keyword rule is about upcoming UI/UX meetups (even though you already told them to type "UI/UX" as keyword!!!), people might still type "design" "UI" "ui" "uI" "uX" "UI/UX" "ux/ui" "uo" and expect to trigger something..
3. Customized Menu
TL;DR, better navigation.
You can add up to 3 menu categories. Under each category, you can have up to 5 sub-menus. It also means:
It's okay to have NO menu (e.g. Alipay subscription account, id: alipayvoice)
You can have 1 single menu, and it looks like a long bar (e.g. TechPapa, id: tech88co; 企鹅智酷, id:BizNext; Tags, id:tag_system)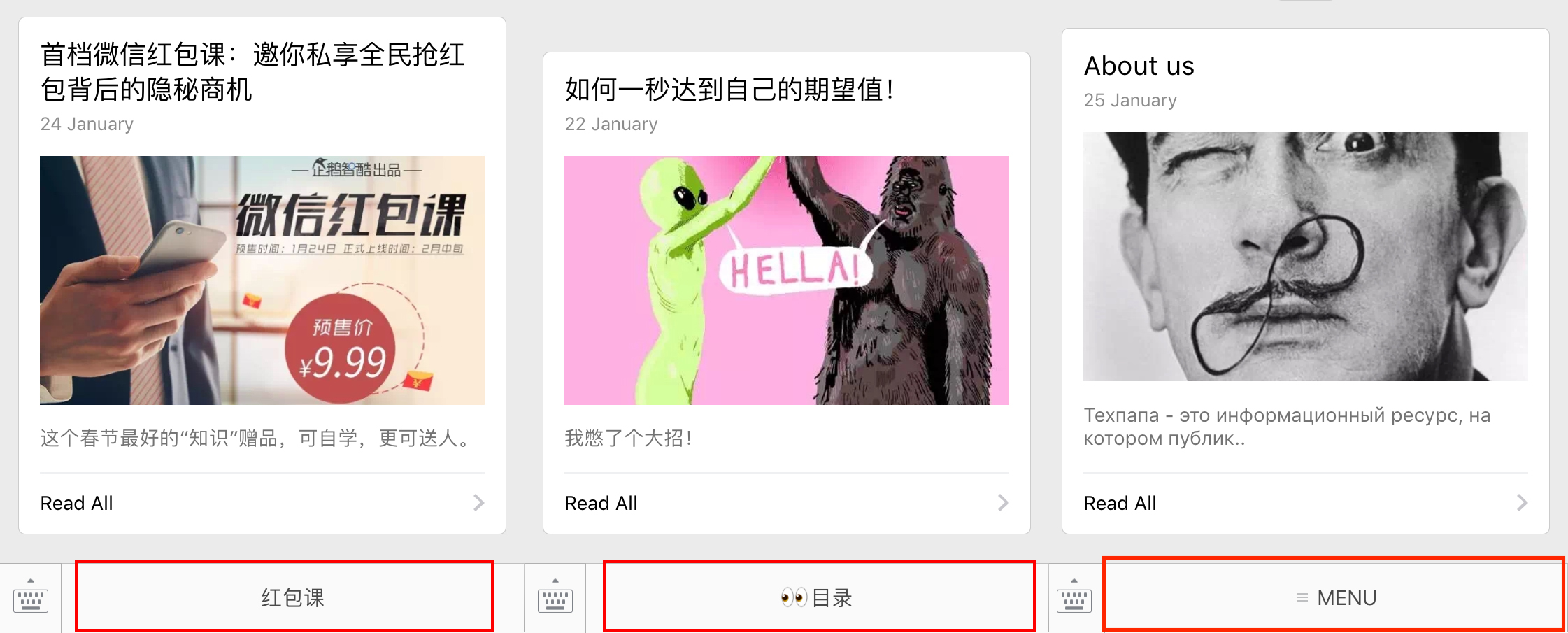 It's okay not to use characters on the menu (e.g. Basement 6, id:basement6)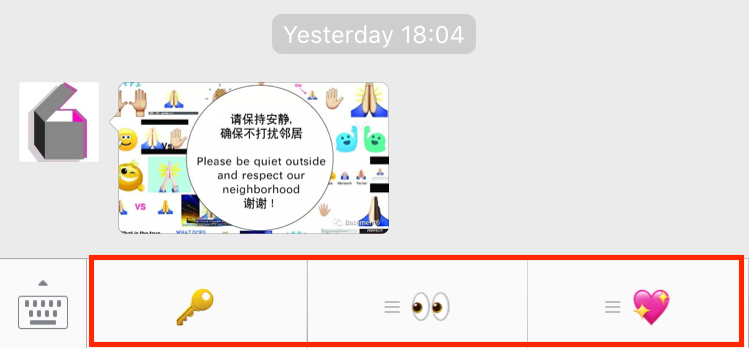 You can reorder the menus and sub-menus
The menu can lead to a message (voice, WeChat article, picture or video), a website or even an app page. Many B2C brands set a one menu button as their app download page or website.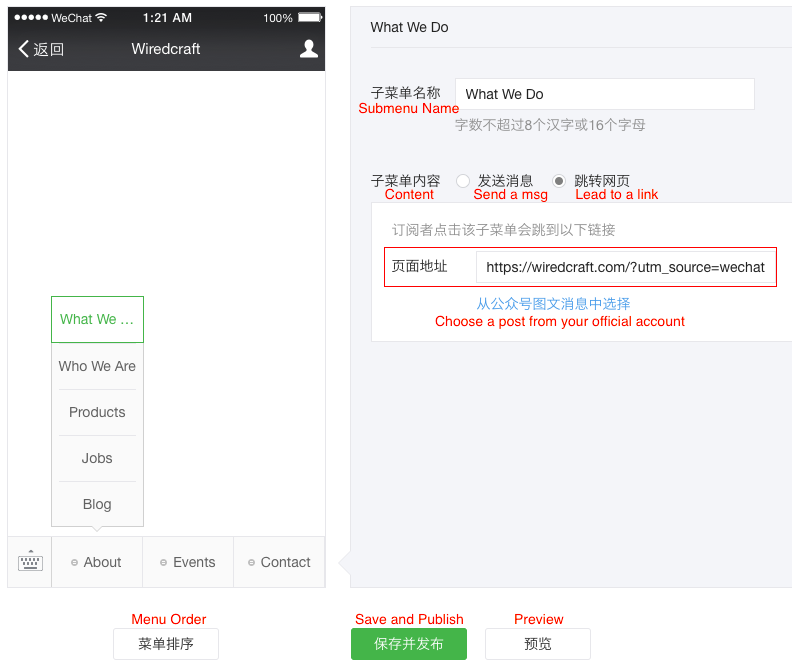 Many content-oriented WeChat official accounts tend to have at least one menu button leading to their previous articles, the articles can be ordered in a template page. (e.g. ChCh, id:China-Channel) It looks fancy, but not difficult to do.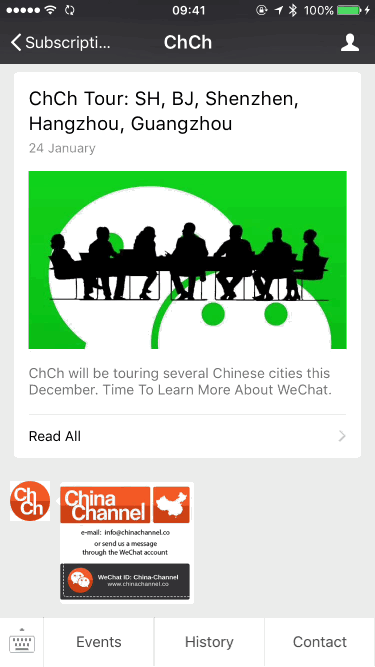 Congratulations dummies, you've survived the first class.
In the next article, we'll talk about the remaining basic functions - comment management, voting, customer service and original statement. Also, we'll have our first WeChat for Dummies workshop at Wiredcraft office after the Chinese New Year. The event details will be updated in the next WeChat post.
Let me know what you think of this article/series, what you want to know in the future articles. Talk to us directly at [email protected] or WeChat:wiredcraft.