Rethinking e-commerce strategies with Burberry's first Mini Program
Wiredcraft designed and developed a WeChat Mini Program for Burberry's Chinese Valentine's Day Campaign.
Burberry is not only one of the world's most recognized fashion brands, they're also the first fully digital luxury company, and when it comes to marketing in China, Burberry is clearly ahead of the pack, combining digital marketing with sales and recording big WeChat wins thanks to high-end advertising rethink and collaborations with KOLs on limited-editions.
Right before Qixi Festival (Chinese Valentine's Day) and in sync with the launch of a rebranding by new chief creative officer Riccardo Tisci, Wiredcraft helped Burberry solidify their Chinese presence with their first WeChat Mini Program.
A holistic approach to fast-paced ecommerce
Wiredcraft was tasked to provide a solid foundation that would serve both the upcoming release and future releases in the years following. The team built in parallel most of the backend components required to run an e-commerce platform, regardless of the client facing application.
The OMNI backend solution helped us to focus on the integration while having very little customization to perform on key components such as payment processing, order management system, inventory management system and social CRM.
The result: a full fledged e-commerce Mini Program delivered in just 6 weeks.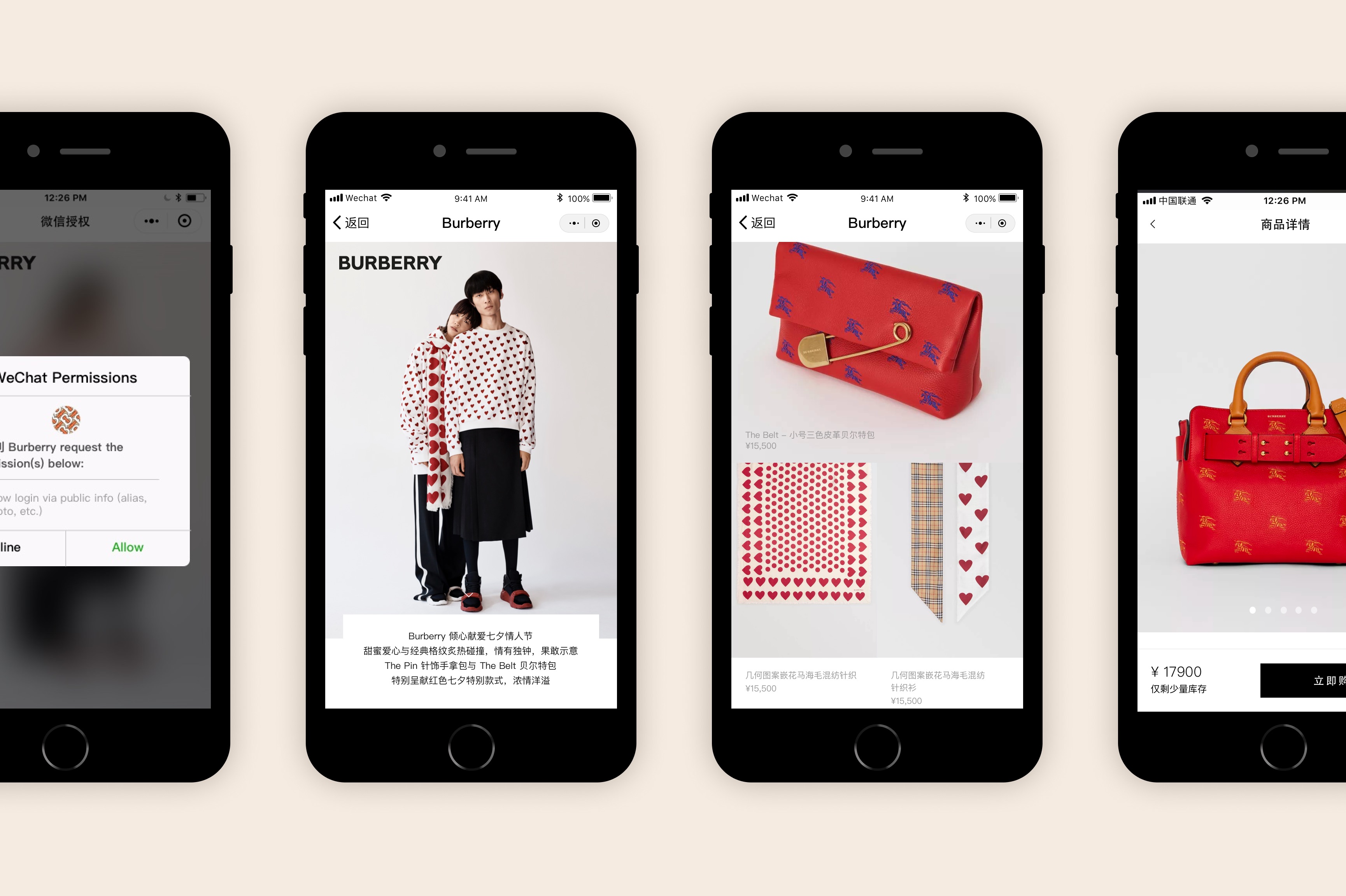 Yes, Google Analytics for Mini Programs
At Wiredcraft, we care a lot about analytics, especially when it's as closely tied to revenue as an e-commerce app. Not being satisfied by the WeChat native tracking, we developed OMNI analytics - a customized SDK that allowed us to use analytics platforms on a WeChat Mini Program.
Our setup can use an Adobe or a Google wrapper, unlocking both WeChat acquisition reports (shares through group chats, QR code tracking) and the granularity of a mobile app/website tracking, on Mini Program.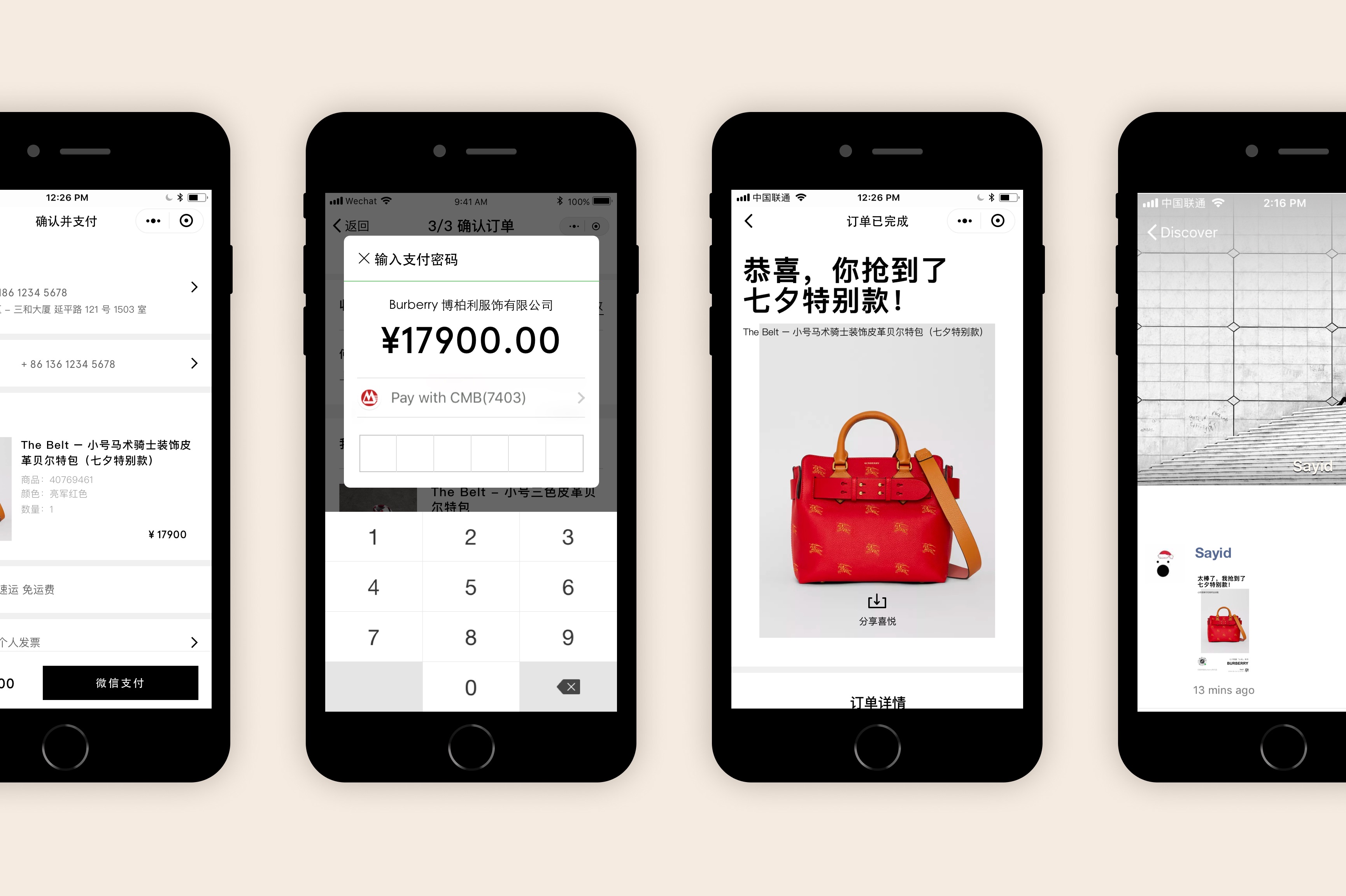 Creative user attraction on Chinese Valentine's Day
On top of the technical achievement, audience attraction is a key element for a successful campaign. On the launch day, a partner-matching game was also released on Burberry's official account to define one's relationship type.
In addition, we enabled unique QR codes for each Burberry product, which users can easily share to their Moments feed or to a friend, leveraging contacts to maximize user acquisition.
Scan this Mini Program QR code, and experience the newest Burberry campaign.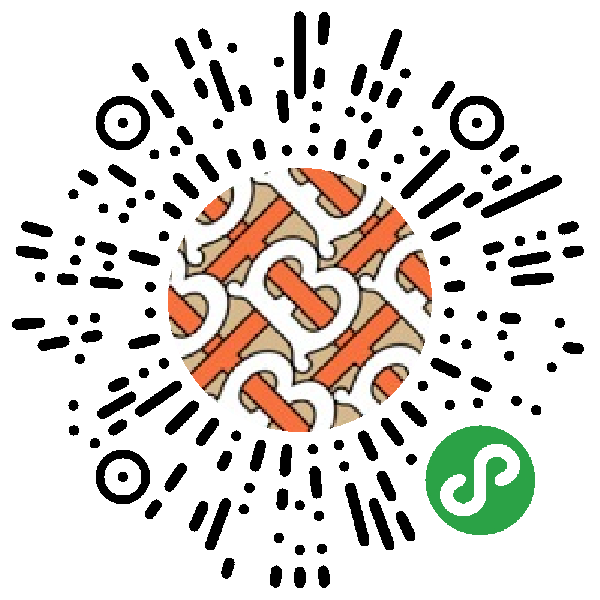 Chelsea Gui
Product & Marketing
Posted on
September 17, 2018
in
Case studies