Meet the first batch of JSConf China 2019 speakers
Introducing our first 6 confirmed speakers for JSConf China 2019.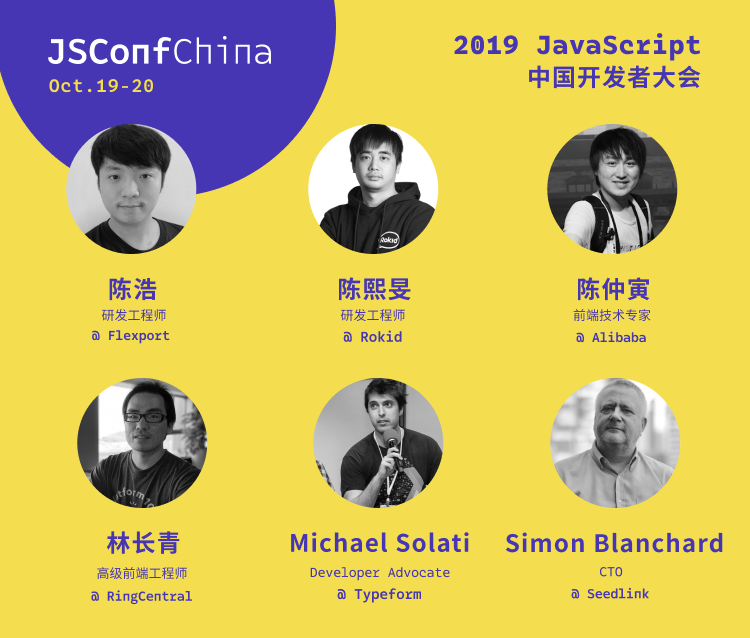 Since our initial call for speakers, we have received tons of applications, coming from all over the world - from Shanghai to Shenzhen; from China to the US. After careful review, including rounds of internal discussions and conversations with potential speakers, we are proud to share with you the first 6 speakers who have been confirmed for JSConf China 2019 in October.
Meanwhile, we are actively planning the full conference experience. There will be 14+ talks this year; as well as two workshops, two panels, a recruitment session, and of course, the after party!
So who are speaking at JSConf China 2019?
Zhongyin Chen
Zhongyin Chen works as a front-end expert at Taobao. He devotes himself in Node.js technology stack, providing frameworks and middleware solutions for Taobao and other BU at Alibaba. He is in charge of Taobao's Node.js overall architecture, solving all kinds of maintenance and stability problems concerning full stack development. Zhongyin also maintains and develops internal and community open source products for MidwayJS, including Midway, Sandbox, Pandora and Injection.
Hao Chen
Hao Chen, R&D Engineer at Flexport. He has 7 years of front-end development experience, is a Javascript Lover, Rubyist and WASMER package contributor. He was once a speaker of Ruby Summit 2018. Hao Chen is a fullstack contributor, marathon runner, open water diver, GameJam fan.
Michael Solati
Michael is a Developer Advocate at Typeform as well as a Google Developer Expert in Web Technologies. He has been writing code for five years and has found his love in Angular, Firebase, Progressive Web Apps, and the voodoo ways of the web… Michael has also spoken at various meetups and conferences, including Angular NYC, Techduels, and the United Nations. Michael's dream side project is a MaaS (Memes as a Service) platform for meme delivery by mail.
Michael Lin
Michael Lin, Senior Front-end Developer at RingCentral. He is in charge of multiple RingCentral Integrated software. He was leading front-end teams in many companies, devoting to frontend architecture. He has experience in fields of React cross-platforms and state management, and also has deep understanding and practice in terms of front-end automation testing. Michael loves open source, has worked on many open source projects, such as the modular library - USM, the testing library - TEES, etc.
Simon Blanchard
Simon Blanchard, CTO @ Seedlink. Simon Blanchard is an accomplished executive who leads the technology team at Seedlink. Simon's career spans 29 years across Europe and Asia. Before joining Seedlink Simon co-founded yaean design in Shanghai and Hong Kong, where he served as Chairman and CTO. Prior to that he was a Department Head at Philips Research, leading research in to the fields of optical storage and digital television. Simon loves inventing, programming and his guitar.
Ximin Chen
Ximin Chen is a development engineer at Rokid's platform and framework team, his area of expertise covers performance and stability. He is currently working on developing Node.js runtime and application for embedded Linux. He's a collaborator for ShadowNode, an embedded Node.js runtime.
Are there any topics you're interested in? Want to meet them at JSConf China 2019 ? Don't be a late bird, get your ticket now.
Follow us on WeChat, search 'JSConf_China', and stay tuned for the second batch of speakers!
Buy a ticket
Chelsea Gui
Product & Marketing
Posted on
July 22, 2019
in
Events