Fighting Human Trafficking: Open Data, Big Data, and Python
"The crime that shames us all" is a 32 billion USD industry, benefitting from 21 million people. And 33 percent are children. As technology has progressed, it has come to play a pivotal role in the human trafficking industry.

Image Source
Over time, advancements in technology have restructured the ways in which human traffickers (and their businesses) operate; large scale trafficking has become simultaneously more profitable and more complex. Though, as technology can connect human traffickers to their victims, it also can serve to catch traffickers in action.
How do human traffickers use technology?
The rise of information exchange through web and mobile technology has provided more opportunities for traffickers to target victims more efficiently, through a screen, with the click of a button. Soliciting victims through online job advertising proves to be faster, more efficient, less expensive (than traditional billboard or newspaper advertising), and ultimately less risky (especially if you're anonymous).
Victims, often recruited through anonymous online advertisements seeking models, nannies, and domestic servants abroad, relocate to accept jobs and arrive to face very different sets of job descriptions. According to USC's 2015 report on technology and labor trafficking, migrant workers, often disconnected from technology and their social networks, are more susceptible to human trafficking.
As record numbers of war refugees are moving across borders, their disconnection and mobility represent business opportunities for human traffickers. But as more and more human traffickers are using technology to recruit victims, the importance for the use of technology and open data to fight human trafficking becomes evident.
How can technology be harnessed to stop human trafficking?
Polaris, an anti-trafficking NGO that runs a US-based human trafficking hotline, National Human Trafficking Resource Center (NHTRC), has partnered with Palantir to map locations of reported human trafficking cases. Using this information, Polaris analyzes migration patterns and designs attacks on these human trafficking networks using open data, big data, and insights from the hotlines.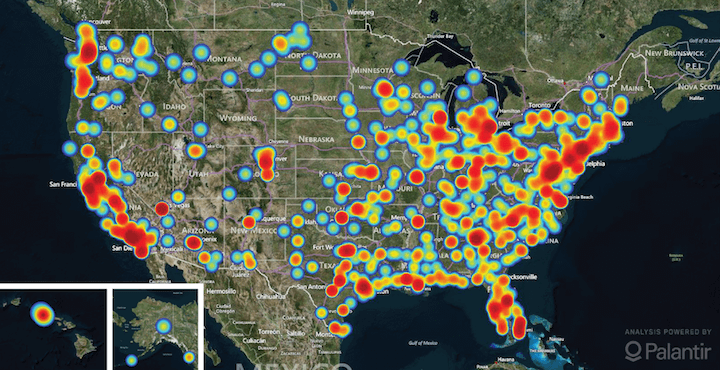 This map only reflects cases where the location of the potential trafficking was known. Some cases may involve more than one location. Data is from 2014. Image Source
In an effort to alter the risk-reward environment for human traffickers by making human trafficking a riskier (technologically speaking) and less-lucrative industry, Microsoft has developed software and services such as PhotoDNA and the Child Exploitation Tracking System (CETS), to grow citizen awareness, prevent trafficking recruitment, and expose existing trafficking.
On an individual level, Eric Schles, a New York-based data scientist, has been fighting human trafficking using Python. He developed TraffickingGrab, a tool to scrape websites for evidence of human trafficking, and explains in a podcast how he uses Selenium and mechanizes Tor to scrape the deep web.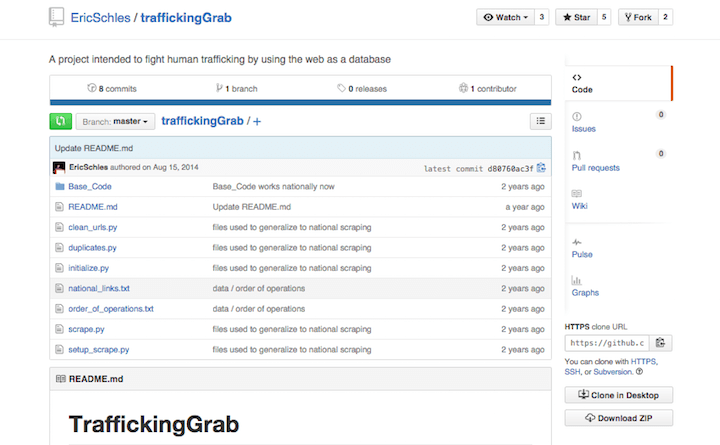 Image Source
To learn more about how you can combat human trafficking, watch Eric's tutorial on how to utilize his open source tool.
To report suspected human trafficking, contact: National Human Trafficking Resource Center (NHTRC)