Creating a premier digital experience for GUCCI on WeChat
We revamped GUCCI's e-commerce on WeChat, focusing on creating a unique, premium experience that drives revenue.
Luxury fashion powerhouse GUCCI relies heavily on Chinese market. According to Barclays, last year China accounted for around 35% of GUCCI's annual sales.
As one of the most beloved high-end brands among Chinese customers, GUCCI has been constantly modernizing its strategies to win China over since its entry in 2006.
Wiredcraft helped GUCCI revamp its e-commerce on WeChat mini-program, with the aim of providing premium experience for its customers to boost conversions.
The result: practical, implementable digital strategies for the luxury giant in under three weeks.
What we did
Stakeholder interviews

Audit and benchmark

Strategy revamp

Feature plan

Product management

Customer journey mapping

UX suggestions

Roadmap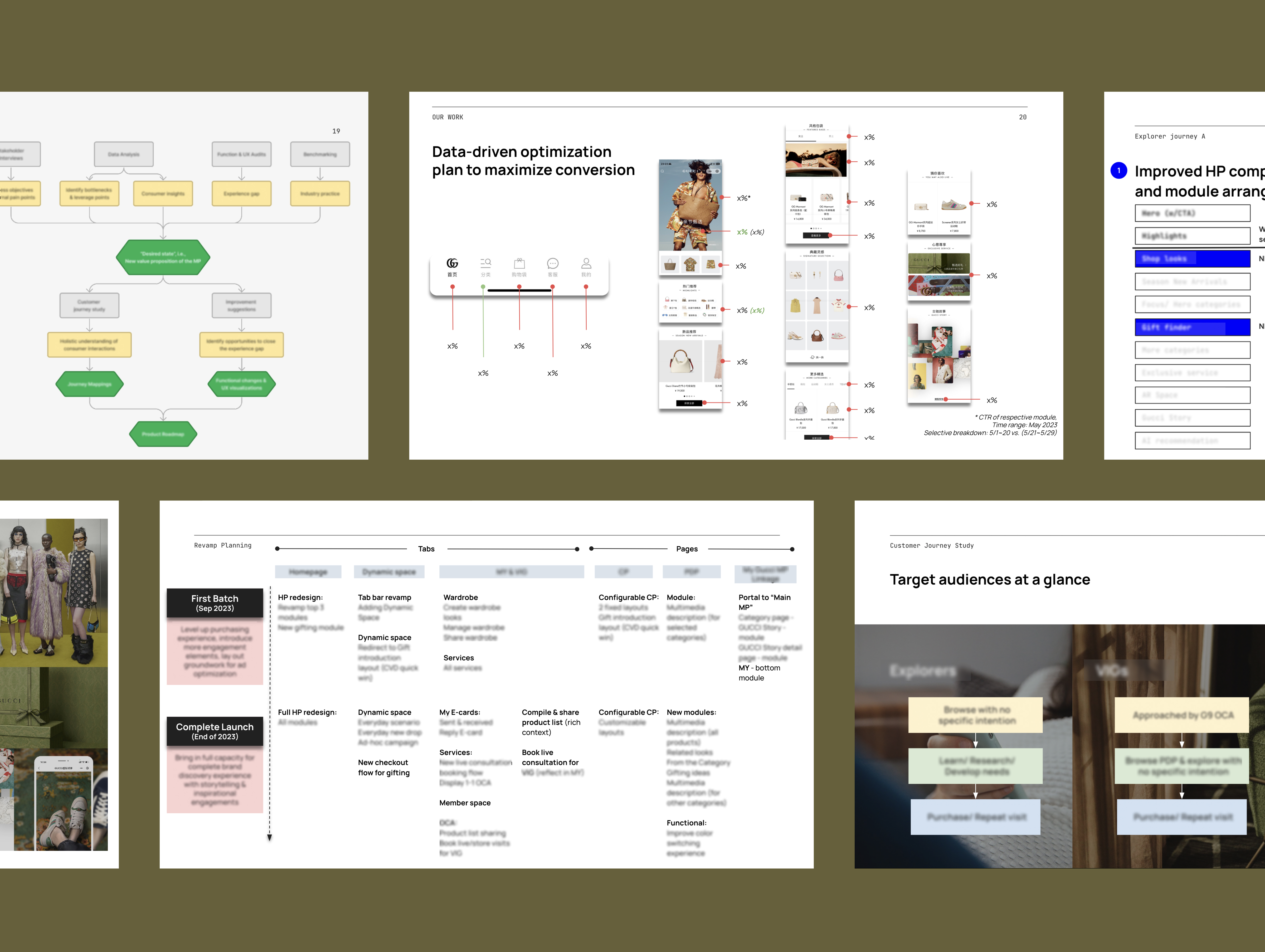 Meeting GUCCI's needs on WeChat
We conducted comprehensive research, which included stakeholder interviews and audits of data and UX design.
During our stakeholder interviews, several key insights emerged.
First, there is a strong demand for more localized content and features to better align with the preferences of the Chinese audience.

Our analysis revealed distinct and valuable customer segments: explorers, VIPs, and gifters. Each group requires tailored strategies due to their varying characteristics and shopping habits.

To optimize WeChat ad strategies, it became evident that aligning ad content with landing pages is crucial for success.
Our in-depth data and UX audit indicated the need to:
strike a better balance between organic and paid traffic to enhance user engagement and exploration;

provide the right content at the right time, in an organized and consistent manner to prevent drop-offs;

offer more scenario-based shopping options.

optimize "MY" page to provide a more personalized and user-friendly experience;

create more flexible modules for the brand's creative expression.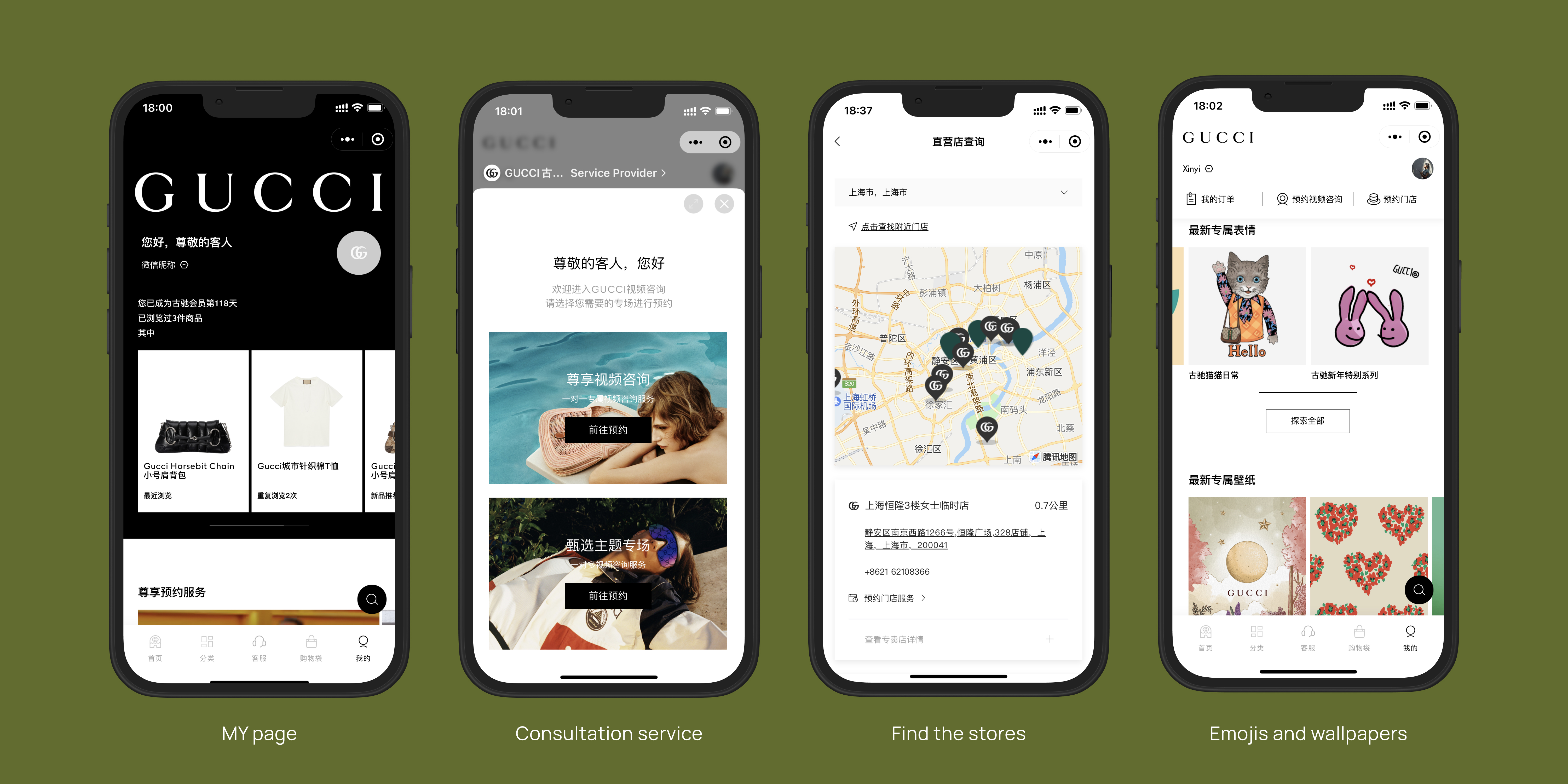 Enhancing customer engagement
Wiredcraft adhered to several guiding principles aimed at delivering a seamless and engaging experience:
reducing friction points to achieve a healthier funnel, ensuring that users effortlessly progress through the platform;

tailoring to the key audiences with various types of storytelling, creating a more personalized connection;

ensuring a natural flow from module to another, maintaining the user's engagement throughout their journey.
We identified three major customer groups, each requiring specific attention.
For explorers group the goal was to increase engagement, loyalty, and referrals;

For VIPs, we aimed to establish higher-quality connections between sales and VIPs, digitally transforming their interactions;

For gifters, we focused on integrating gifting into the product display page and extending the gifting journey to enhance new customer acquisition and retention.
Exciting features for GUCCI's success
Standard e-commerce tabs and modules often struggled to engage users and encourage repeat visits. Wiredcraft executed a revamp plan centered on optimizing the user experience.
By introducing a "dynamic space" tab, GUCCI would gain a dedicated platform for gift inspiration, storytelling, campaign promotion, fashion show highlights, and more. This dynamic space would empower GUCCI to offer a personalized, engaging and captivating digital shopping experience.
Regarding the "MY" page, we proposed the strategies that position it as the premier destination for a personalized experience that would continuously engage and reactivate both new and VIP customers.
By adding features like Wardrobe looks for outfit inspiration, customized E-cards, and new video and store consultation options, this would encourage users to keep returning for personal assets and GUCCI's premium service.
We also crafted brand-specific phrases based on GUCCI's business needs and led a workshop to facilitate their future implementation.
Scan the QR codes and explore the world of GUCCI on WeChat: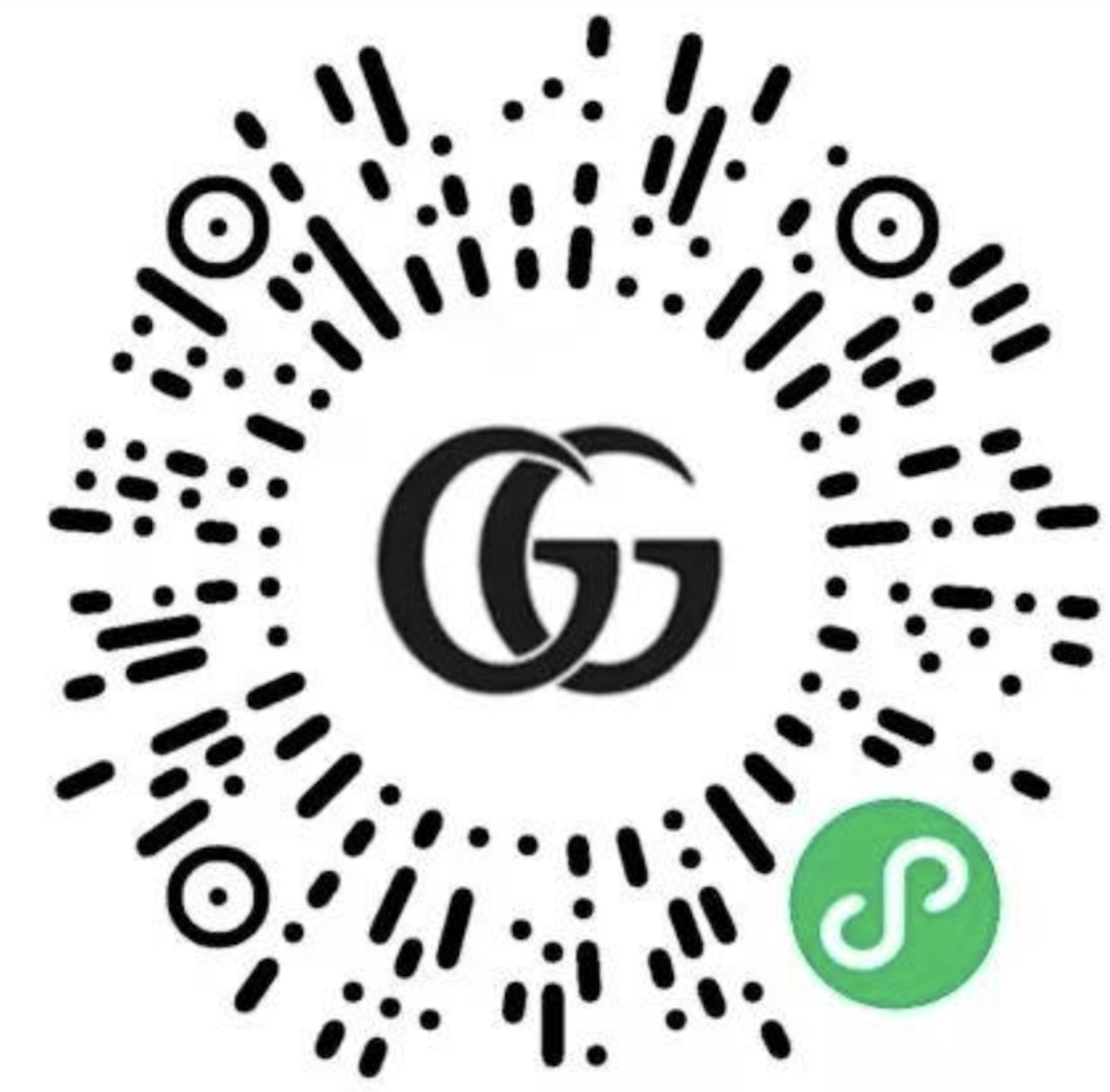 Xinyi Song
Digital Marketing Manager
Posted on
October 19, 2023
in
Case studies