Gamification at the heart of the 88 Campaign
We brought gamification (lucky draw on H5 page) to Walmart's Scan and Go mini program to fuel up their national 88 campaign.
In 2017, Walmart and JD worked together and created the first online and offline promotion campaign '88 Shopping Festival' (shortened as 88 campaign). Sales on August 8th were 13 times higher than the previous best sales record in a single day. Walmart decided to reiterate and improve last year's user experience. That's where we jumped in.
Wiredcraft helped to build a lucky draw to get users engaged and bring them back, fully integrated with their Scan and Go mini program - a heavily used application for users to self checkout in stores.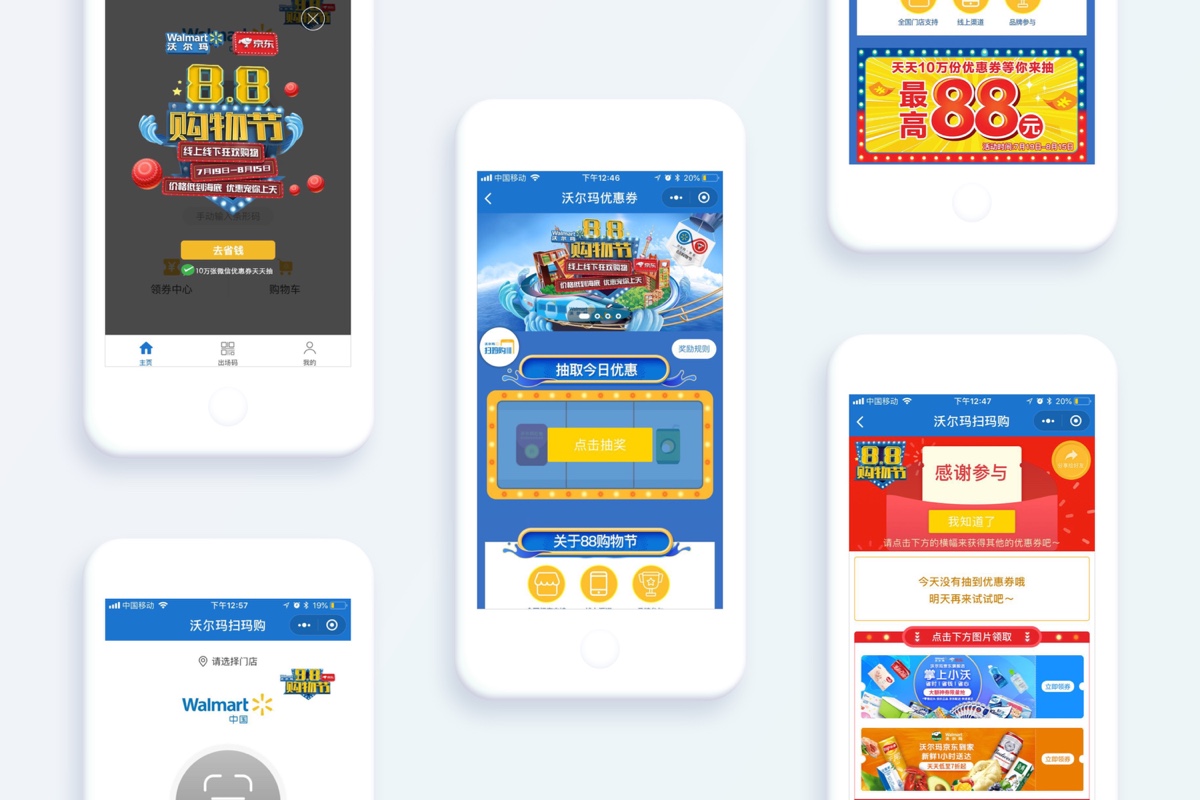 Higher Engagement with Customers
The lucky draw is the first digital attempt at gamifying the experience within the Walmart WeChat ecosystem. The 88 campaign lucky draw serves two objectives: to entice consumers to use self checkout (Scan and Go), while also supporting sales all throughout the campaign, regardless of where they check out.
Everyday, a large number of coupons are issued and available for users to be redeemed through WeChat pay, on Walmart stores.
The game mechanic is simple yet efficient, giving everyone the opportunity to win coupons every day, inspired by the popular Chinese "hongbao".
Enabling Flexibility in WeChat Mini Programs
Behind that simple mechanic, a number of factors made this project challenging:
performance optimization and monitoring. The 88 campaign was launched simultaneously nationwide in every Walmart store, meaning hundreds of thousands of coupons being issued a day, supported by an even larger number of backend requests. Building lean backend components was key to the project's success.

coupon mechanics. To support both business objectives and the user experience, we implemented a number of coupon specific components:

geo-location: determining which coupons were appropriate based on your closest store (Scan and Go stores vs stores)
batch management of coupons: controlling the 'drop rate' probability for each coupon

built-in CMS: to support the multiple phases of 88 campaign, we chose to create an H5 page over simply adding a page inside the mini program. This would allow the Walmart team to easily change campaign assets according to specific campaign phases through the built-in CMS.
Features of 88 Campaign Page
Coupon types: users are able to get two types of coupons based on their location. The Mini Program will determine the best choice, based on user geolocation
Customized content: assets are easily managed through the CMS so that the Walmart team can change banners to match the campaign period
User Acquisition/Gamification: users can play the lucky draw once per day for the whole campaign period. With the lucky draw giving limited time coupons, both mechanics encourage user loyalty and conversion.
Highlights of 88 Campaign
The best way to see if a campaign is successful is through the numbers. With 2 weeks left in the campaign, nearly 100,000 coupons were sent out per day. The redemption rate was close to 70%, from which we are confident to say that Chinese customers love lucky draws.